The Journey Begins...and Bath, England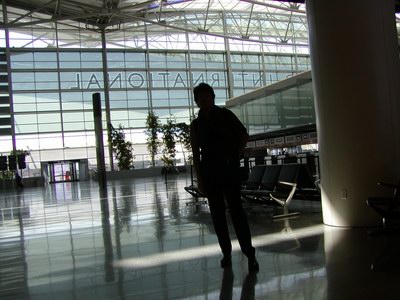 (ed note: We're trying a bit something different this time out for our trip report. We're going totally minimal...what you will be seeing here is basically Becky's journal w/some pics. Most all of the text on this report has been taken straight from Becky's daily PDA [Personal Data Assistant] journal, my "btw" [by the way] contributions will be recorded in red. Often, as I lay sleeping, late at night, I would be awakened momentarily by Beck's "tap-tap-tapping" away on the PDA late into the night recording our day's events and her observations. The accompanying pictures were taken by us both on our respective digital cameras. Please, enjoy...)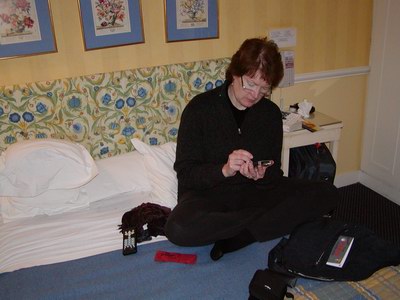 15/16 March 2004
Ok, so here we go...10 hours cramped in coach.
Note to selves: sitting in the second row from the bulkhead means you'll be entertained by the babies in their "cots" the first row. Our first trip by Virgin Airlines, instead of United - same legroom and food as United but better amenities, including a nice welcome pack with earplugs, eyeshades, toothpaste/brush, and personal headphones- wow, they open up like elephant ears!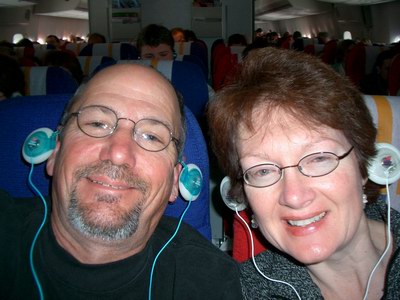 Heathrow - landed, immigration, then baggage claim, then customs. We found the Central Bus Station to buy tickets to Bath, then enjoyed (?) our first meal back in England at the ubiquitous Little Chef fast food joint next door - cheeseburger on bap (greasy good) and mature cheddar pre-made sandwich (bad).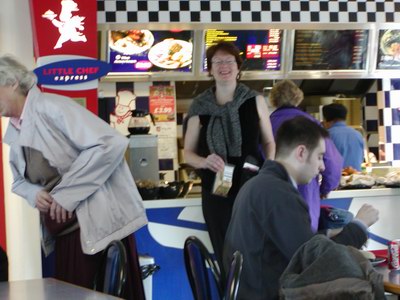 Amazingly nice weather - 2 days ago it was pouring rain and cold. Now I'm comfortable in a sleeveless top. Our bus ride takes us through lovely rolling green hills with the ever-present sheep and lasts about 3 hours. Arrived in Bath and caught a cab at the nearby train station. The Crescent Guesthouse's rooms are small but pretty, especially the gleaming modern bathroom. Gilly and John are most hospitable landlords.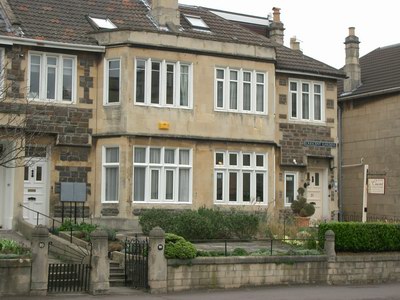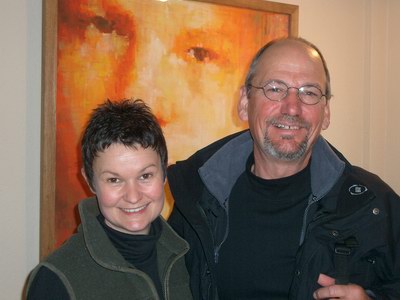 After brief rest and unpacking, we walk into town via Charlotte Street. It's around 6 o'clock in the evening and most shops are closed. We ended up eating at a Spanish Tapas bar. Had way too much food - olives, bread, pork ribs, Manchego cheese -yum - and paella carne with chicken and Spanish sausage. The paella was HUGE, with peppers and artichokes and asparagus. We ate only 1/3 of the dish and washed it down with sangria. We walked home listening to a peal being rung at a nearby church. How many hours have we been up now? Sleep is good.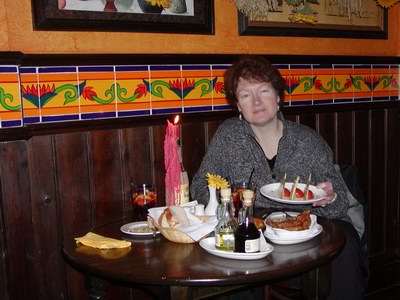 17 March 2004
Gil awoke at 3:30 am and Becky slept until a very reasonable 6 am. We had a most tasty breakfast - delicious scrambled free-range eggs, cooked in the 'French' manner, slowly and with lots of butter, plus local hand cut bacon and sausages. Lime and ginger marmalade and apricot preserves made by Gilly's own hands. We met other guests - a family from South Africa and a young lady from London, who thought it was high time she visited Bath.
We followed our Gilly's suggestion and walked south to the river Avon, then along the north bank footpath, eventually crossing the river to join the towpath along the Kennet and Avon canal. Lovely walk - looked at 6 locks, including the second deepest in England, according to the lockkeeper we met, who was busy painting a lock 'sweep.' It's that deep because it replaced the 2 locks which used to be there. Walked by some 'real' canal boats, thru a tunnel, and reached Sydney Gardens.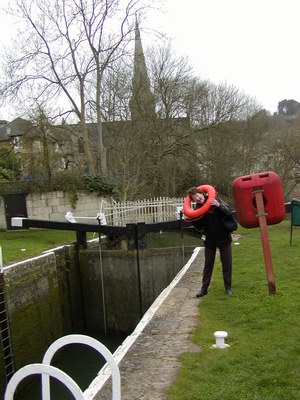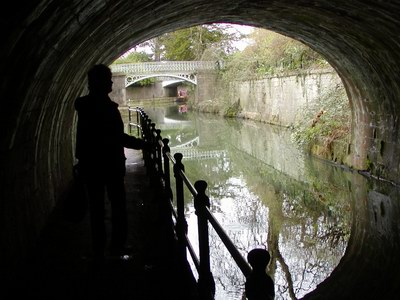 We continued through the park, then west on Pulteney Street and over Pulteney Bridge. Time for a wee spot of shopping, including gifts for people back home, local mature cheddar cheese and postcards at an ancient covered market place. We also followed a shopkeeper's advice and found the last of the medieval city wall gates (east), which you'd never find unless you were looking for it.
Bought sausage rolls and chocolates and headed to the famous Circus.
Impressive! Then west to the Royal Crescent, where we enjoyed our rolls on a park bench while we watched energetic dogs and young soccer players running around the wide green lawns.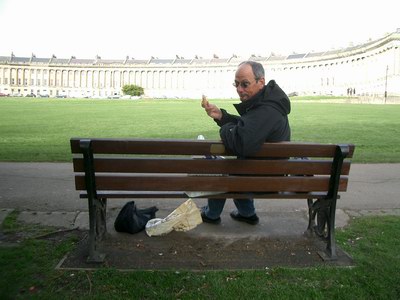 Toured the Georgian life museum at Number 1, Royal Crescent. Wonderfully arranged as if a family still lived there and staffed with very knowledgeable and friendly docents. We walked home straight south through the Royal Victoria Gardens. Brief nap. Enjoyed our cheese.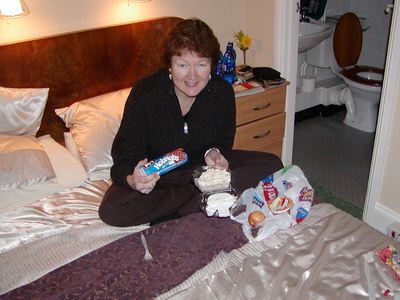 18 March 2004
We started the day off with another lovely breakfast, then off to Bath Abbey to catch the free walking tour of Bath. Lasted over 2 hours, in rain and sun. Highlights: angels climbing up and down the two ladders on the west front of the Abbey,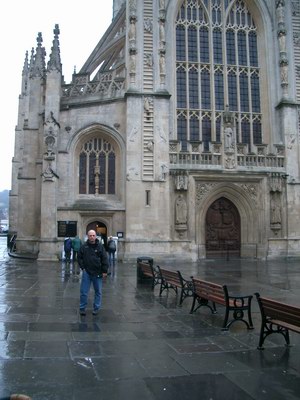 multiple bath facilities (Cross Bath = most posh), Beau Nash's last house, first taxi stands (Nash came up with idea to build small warm buildings to house the often nasty and drunken sedan chair blokes, made them sign oath to charge fair prices and in turn assigned a number to the sedan chair), the famous (Persuasion) gravel walk, hanging loos (very early bathrooms, like little sheds hanging from the second floor. Had lunch at the "Green Tree" on Green Street. Bangers 'n Mash and Ploughman's Lunch. Great food for a tiny hole in the wall; very friendly staff. Refreshed, we headed down to the Roman Baths. The audio tour was too wordy, but signage adequate.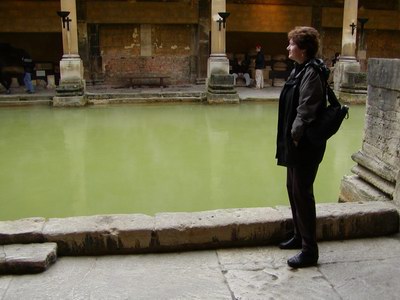 Amazingly, 3/4 of the temple site is still unexcavated. We each partook of a glass of spa water in the gorgeous Pump Room. We pretended to enjoy the sulfurous liquid, then discreetly left our glasses on the counter. Gil left to go back to the B&B. I picked up postcards in the museum shop - then surprise - there was Gil, buying a bath aqua glass necklace that he saw me admire earlier. Cheeky monkey!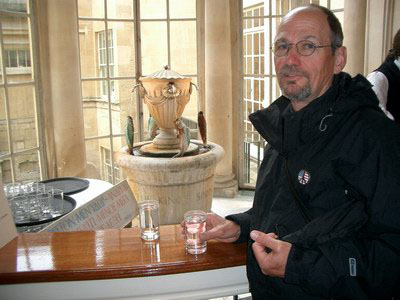 I walked north to Gay Street, where I found the Jane Austen Experience. It was helpful in learning all the Bath locations relevant to Jane Austen and her characters. Watched video narrated by the actress who played Anne Elliott in BBC production of Persuasion.
Left to go up to costume museum and the assembly rooms. The usual ill-lit and difficult to see clothing exhibition, plus added feature of 'Fashion and Film: Jane Austen in Movies.' Headed back down the hill to the train station to buy tickets for tomorrow's short trip to Trowbridge, where we will meet up with Molly and Max and the Martins (and perhaps any other stray folks whose names start with M). I walked home, then Gil and I did a load of laundry right across the street, with a helpful attendant who sold us 2 cups of 'laundry soap' for 20p per cup and walked us thru all the steps. We then repacked our bags so we'll have to take just our small bags onboard the canal boat tomorrow.
19 March 2004
Arose for our last breakfast at the Crescent Guest House.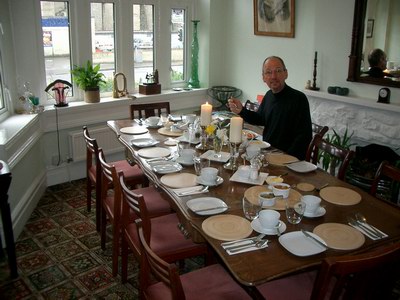 Gilly ordered a taxi to pick us up at 1:15. We walked up to Mailboxes Etc on George Street, which is housed in a Georgian building - late 1700's? Gilly recommended the place cuz it has a "very civilized" Internet lounge. She was right. We were taken down stone steps to a stone cellar, to a large room with 3 computer workstations, 2 white leather couches, and a large coffee table. And a classic bust.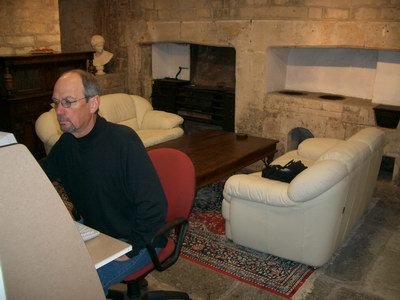 Also, glass doors to large arched tunnels of stone, with the mysterious sound of dripping water as accompaniment. And did I mention the large stone stoves/grates?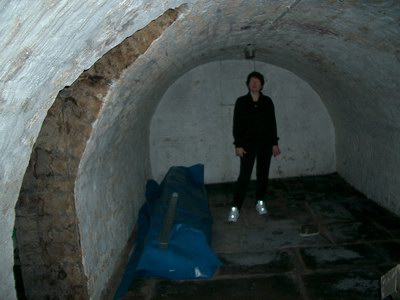 Quite the unique internet cafe! After writing to some friends and relations, we walked down to the Waitrose supermarket and bought baguettes, chocolates and oranges to eat later for lunch. (Note the handy shopping list holder on the trolley.)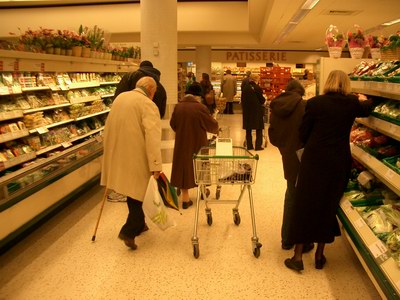 Then down to the Abbey which was quite lovely…and populated with staff who took an inordinate interest in our knowledge (or lack thereof) of the Abbey and its history - "What, you haven't seen the statue of Bishop X? Well, you must come with me now - look up there - no up THERE - see the bird? See it? No, over THERE. What, you haven't been to the Foundation Museum? Well, you must go there immediately." We rather enjoyed their enthusiasm, but began to edge away - "Must run, got to catch our train…" Whew!

[Actually, we learned a lot from the assistant verger, who accosted us in the church and sent us packing downstairs to the separate foundation museum. Down there, we learned about the Saxon and Norman churches which stood there long before the present abbey, which became a parish church after the dissolution and remains so today. It cannot be a cathedral because no bishop lives there. The Bishop of Bath and Wells (that's literally his title) lives in Wells, so he doesn't count.]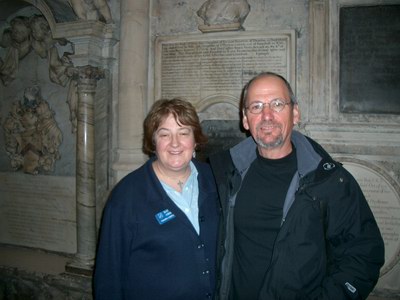 We rushed back to the B&B in time to catch our cab to the train station...

Please click HERE to continue our tale wherein we spend 3 days aboard a narrowboat with friends, plying the canals of southern England!
---
(Return to Gil & Becky's homepage by clicking HERE)