"London 1"

22 March 2004 (cont.)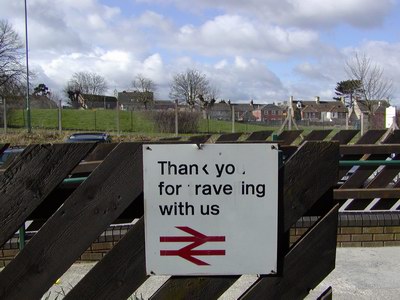 Gil and I took a cab from Paddington to Piccadilly Circus so I could go to the Transport Information Center to validate our 7-day London travel cards. We decided to try schlepping our luggage to Charing Cross train station via the Bakerloo line. Yikes, lots of stairs. Took quite a while to get there. Grabbed a chicken/bacon panini for lunch, which we split. Our train to Greenwich left from platform 1. Walked, dragging luggage, from Greenwich train station to 1 and 2 Nevada street, site of the Greenwich Parkhouse hotel.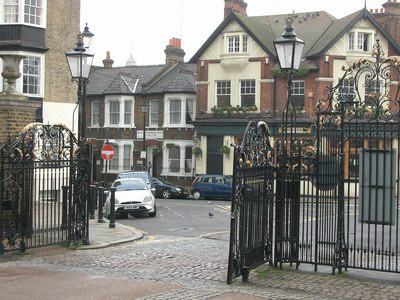 Met 'Frank,' our friendly host, who checked us in. When I told him we'd been on a canal boat for the last 4 days, he told us of his own days living on a canal boat, which ended after a brief spell - evidently the 2 chaps he was living with - "they were not very hygienic, you know…it was their socks."
We like our room (Room 7 - it's the "large triple room" on their website) - it's got 3 single beds (with 2 pushed together for us), 2 wardrobes, a table and chairs, large bow window overlooking the park, and lots of room.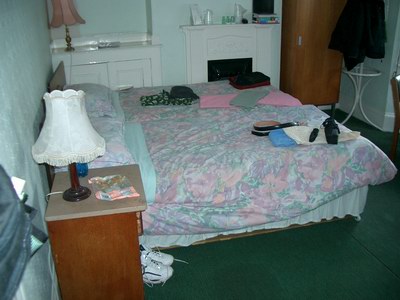 Not what you'd call a really modern room, but more than adequate, and all the room, especially after the cramped quarters of our canal boat, seems marvelously spacious. There are 3 bathrooms down the hall. We each take a nice shower. Washing the hair again after 4 days on the boat is such a treat.

After settling in, we explore our village of Greenwich a bit, then we head out to the docklands light rail - the 'Greenwich for Maritime' station. It's underground here, just like the tube, so I can understand the confusion over whether 'the tube' goes to Greenwich. It doesn't, but it blends in seamlessly with the DLR.

It takes us exactly one hour from our Greenwich doorstep to the Westland hotel on Bayswater Road, using DLR to Bank, then catching the red (Central) line to Nottinghill Gate. We arrive at 6:00 pm. We come back using the Queensway tube station.

Molly and Max have a lovely room-they were upgraded to a deluxe room. It's quite a bit different from the standard. We head west on Bayswater to the Mahal Indian restaurant, where we enjoy a 'hunger busters' set meal for four. We eat every smidgen of food, washed down with 6 huge Indian beers. Fantastic!

Alas, we must say good-bye to our friends - they fly home tomorrow - and now we're home in Greenwich.

23 March 2004

How nice to have multiple bathrooms at our disposal, even if the floor of one slopes mightily. We breakfast downstairs on red grapefruit, cereals, toast, jams and individually packaged cheeses from France and England. Our table neighbors are from South Africa.

After breakfast, we explore the town a bit...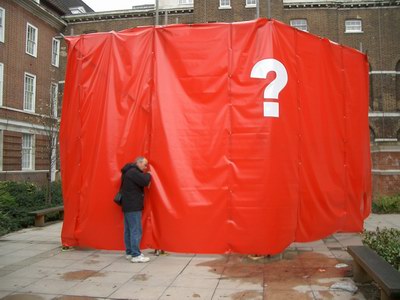 ...finding a surprisingly spacious motorcycle/accessory shop, many bookstores, a very nice Internet café, Saint Alfege's church by Nicholas Hawksmoor (I personally dislike the style; have yet to step inside.)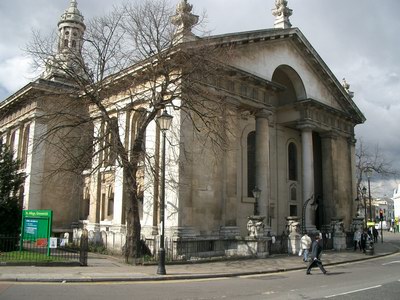 Things appear to open at 10:00. We need to catch our London Walks guide at the tower tube station at 11:00 for a tour of Greenwich, so we walk over to the DLR (Docklands Light Rail) for "Cutty Sark" station and take the northbound terminating in "Bank" then switch to "Tower Gate" station. It takes about 30 minutes. We find our group easily - my, it's large, about 35 people. Our guide is Kim. She points out the more-than-grand headquarters of the London Port Authority and the memorials to lost merchant seamen during WWI and WWI. Also Trinity House, which still oversees the functioning of Britain's lighthouses and coasts.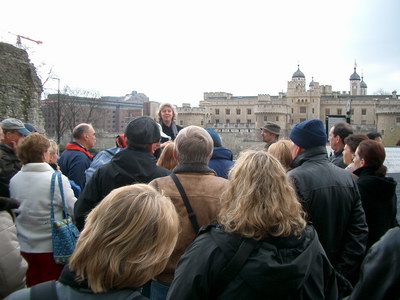 Next we thread our way down past the Tower of London construction to Tower Pier, where we board a huge river cruise vessel. We nab great seats in the front row, port side, in the warmth below decks.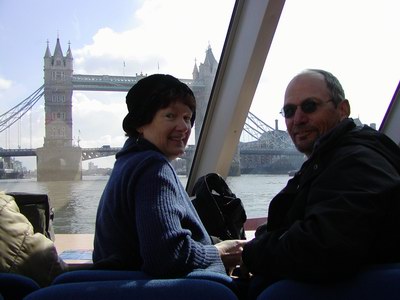 We see where Queen Elizabeth I knighted Sir Francis Drake, the prospect of Whitby pub, the Mayflower pub (South Bank), the Grapes pub and many old docks converted to flats or businesses (no docks left in London at all now). We see the modern headquarters of the Thames river police, the world's oldest organized police force (late 1700's?). Arrive at Greenwich Pier, where we disembark and resume our walk. We see a lot of sights we've seen before.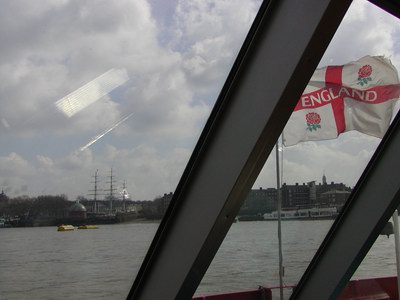 Our own B&B street, Nevada street, was once part of an important stage road from London to Kent. Some of the pubs here began in the early 1600's as coaching inns. Large arched doorway next to the Spread Eagle once led to the coach yard and stables. We finish our tour at 2:00 and then head out to the famous Goddard's Pie and Mash shop just blocks away from our home.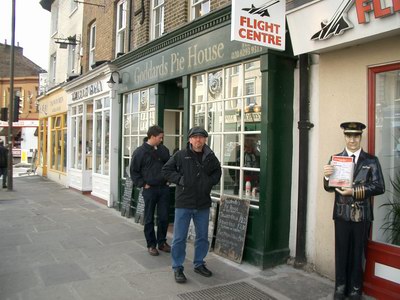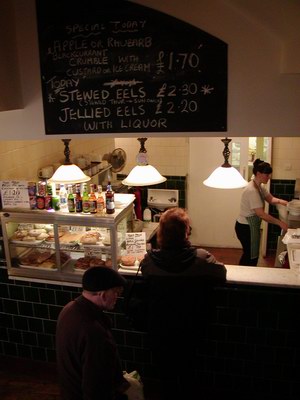 I have chicken and mushroom and mash and peas; Gil has a great bowl of shepherd's pie. We also get fruit pies with custard sauce. We are very naughty; the pies are very tasty. Gil finally has to push away his dessert. When the proprietress, who seems to come from some Victorian pocket of time, comes to collect our dirty dishes, she chides Gil "Wot, you couldn't finish it?" Gil: "Well, I'm watching my figure." She: scoffs. Me: "Well, he has got a cute figure." She: (gesturing to Gil) "Alright lovey, stand up; spin around." Gil: sheepishly does so. She: (laughing) "Aye, you'll do."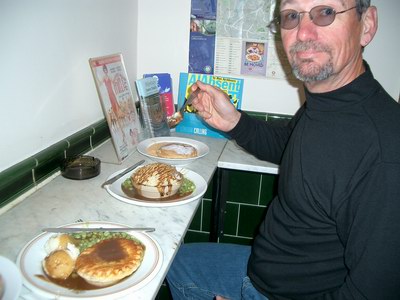 We buy a couple of books at the bookstore, and then head home for a bit of rest. Later, we head over to see two beautiful parts of the (former) Royal Naval Hospital: the Painted Room and the Chapel.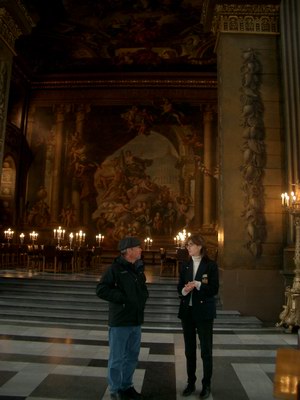 Both were ostensibly designed for the old navy pensioners, but they were certainly created to impress. The Painted Room was going to be the dining quarters for the old fellows, but, depending on the story you hear, their numbers outgrew the capacity well before the nine years it took to complete the immense, elaborate, overwhelmingly allegorical paintings. Or you can believe the alternate version, which postulates the simple seamen marched in to their new dining room, took a look around, said "Cor, this be too fancy for the likes of us," and took themselves straightaway downstairs where they put together their own version of a dining room.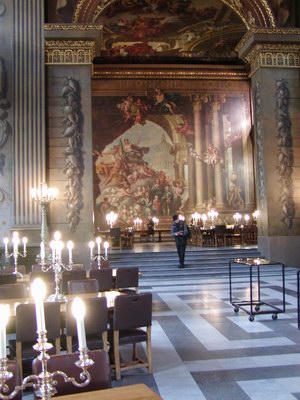 We went to the Internet café and answered a few messages. Gil called Jerry from the Sport Touring Network, who lives a mere 4 miles away. We'll meet him tomorrow for lunch in Greenwich.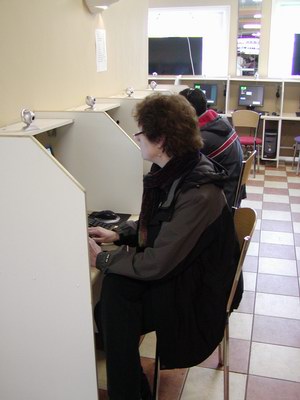 24 March 2004
At co-landlord Jim's suggestion, we scope out the Cheese Shop (lovely tiny shop - we buy three kinds for dinner) and the Washateria (laundromat) further up the road.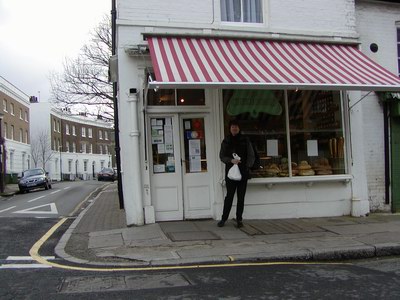 It's brisk and cold outside, with the occasional shower. We walk to the top of the hill - there's a small green park called 'the Point' with a handy plaque naming some of the architectural highlights to be seen from our surprisingly lofty vantage point: the London Eye, St. Paul's, etc.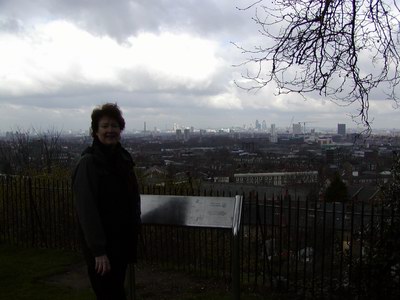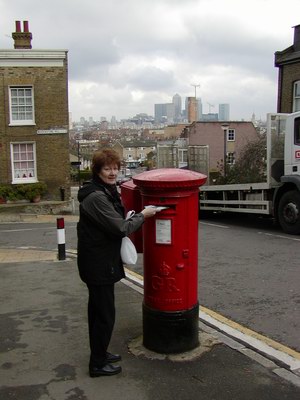 We continue walking around the hill and find we have walked all the way to Blackheath.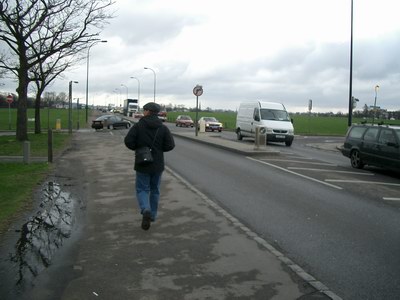 Acres of green grass ringed by Victorian homes. According to the story, the grassy site is where thousands of plague victims were buried (1665,) and it cannot be disturbed for 500 years. So they'll be mowing the grass for quite a while yet. We begin our descent - I photograph a mysterious rounded brick column, which turns out to enclose the water source for the naval hospital down the hill.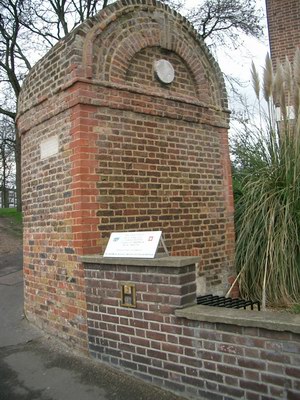 We arrive back home briefly - Frank puts our cheese in the refrigerator for us, and then comes up to oil our room's squeaky door. We head out to the Naval Museum and Queen's House briefly, then to the Trafalgar Tavern on the Thames, where we're to meet Jerry at noon.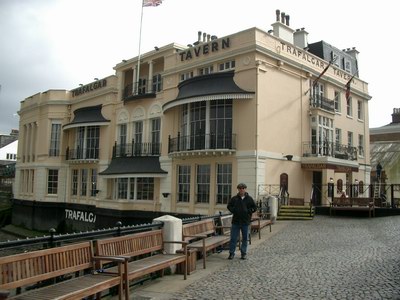 We're a bit early, so I send Gil down the embankment steps to search for ancient treasures washed up by the Thames, which is at quite a low tide. We save a porcelain piece of doubtless ancient origin.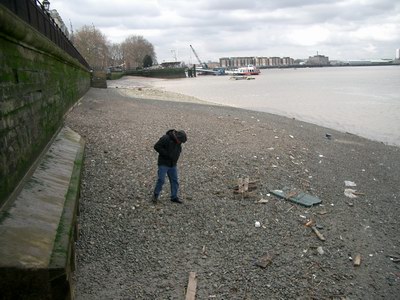 At noon, the cold rain begins pelting down and the Trafalgar's doors are at last opened. It's a lovely place - large, nooks and rooms, naval portraits, right over the Thames. Jerry arrived shortly after we had settled into a table overlooking the Thames.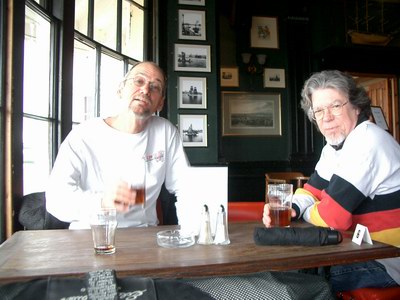 I have a half pint of Nelson's Blood, Gil a Trafalgar, and Jerry a cider. We try a starter of whitebait, a house specialty for centuries, in addition to two rather ironic burgers: veal plus free-range beef. Hmmm. Anyway, the whitebait is crispy batter fried tiny whole fish and they are not too bad, not that I'd need to try them again, mind you.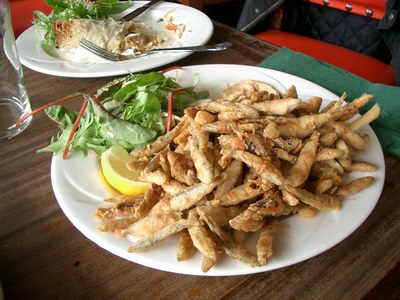 We enjoy a pleasant lunch and chat with Jerry, then walk through a hailstorm to resume our walk through the Naval Museum. We both realize it's not that huge and that we saw a good deal of it during our last visit, in 2001.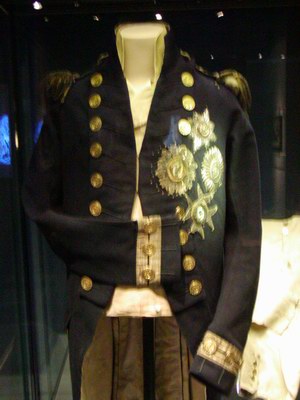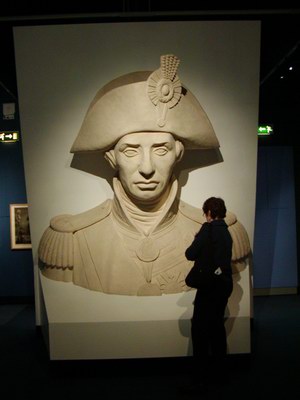 Back to our room - it's Laundry Time! We use one big machine (a 25 pounder) for our rather large load. It's four pounds for the wash; one half hour. Dryer takes 2 pounds and clothes are all dry, including jeans, in 40 minutes.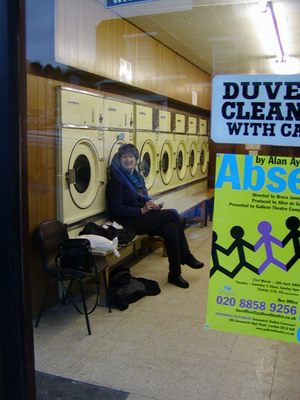 To Marks and Spencer (High Church Street) for a surprisingly tasty pre-packaged salad with free-range egg, sliced, and sliced cooked new potato plus a bag of Clementine's and water and a yogurt/vanilla/maple smoothie. After dinner it's back to the room, along with a TV show on the current chocolate sales battle between Cadbury and Nestle.
Awakened by a group of German speakers who arrive by persistently ringing the doorbell at around 10 p.m., then speak in alarmingly loud voices up and down the stairs and hallways. Gil got up and went into the hallway to glare at them. He decided not to make a scene when he opened the door, standing threateningly in his flannel doggy print pajama bottoms and noticed that poor Frank was up and having to deal with them.
25 March 2004
We asked Jim if we could skip the grapefruit and toast and cheese today, so we could get on our train to Cambridge quickly. We made our way via DLR and the northern line to King's Cross Station.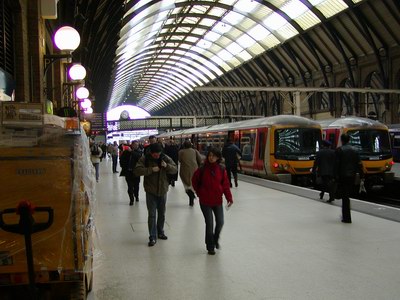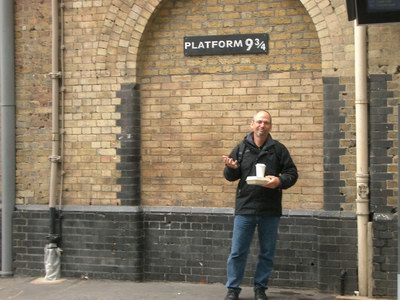 Easily caught a direct line to Cambridge. The station has excellent signage now - you can easily figure out the final and intermediary stops and platform number, plus there is helpful station staff to answer questions. 50 minutes to Cambridge.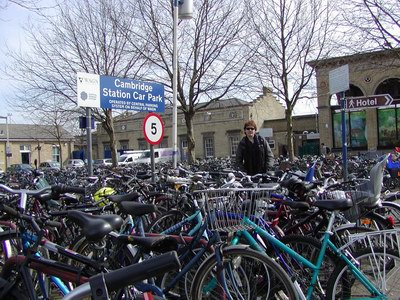 After a brisk walk into town-20 minutes or so, we find the Travel Information center and town market. There was an 11:30 a.m. walking tour, but we just missed it. We sign up for the 13:30. We climb the endless steps up the bell tower of St. Mary's Church, where we rest our weary calves and enjoy the stunning views.

We went into the "Irish Sandwich Bar" for a nice, tasty lunch. I enjoy an egg mayonnaise (free-range) sandwich on granary bread with cress plus a fabulous carrot coriander soup. I write our last postcard from England, to Molly. We have now used up all 20 of the postcard stamps we bought in Bath. Gil has a yummy wrap with chicken balti and red peppers.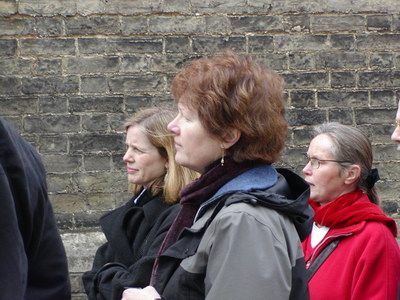 Our tour takes us first to the oldest church not only in Cambridge, but also in the entire region. It's Saxon in its oldest parts. Nearby, we see the Cavendish laboratory (famous for over 30 Nobel prizes), Eagle Pub (ancient coaching inn, can still rent rooms, Christopher Marlowe staged plays there, Watson (or was it Crick) ran over here from his lab/rooms announcing he'd discovered the secret of life, for which they bought him a beer.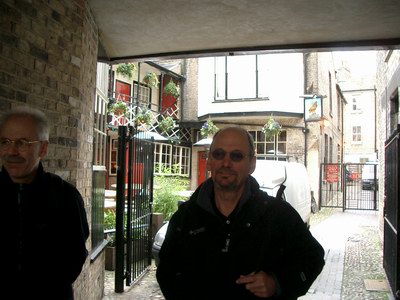 Then pushed on to King's college and its exquisite chapel (started by Henry VI and finished by Henry's VII and VIII).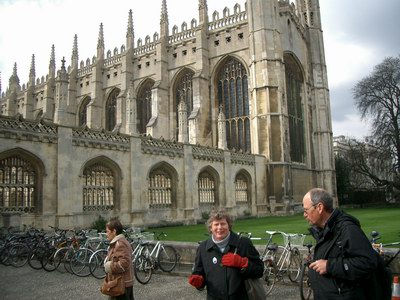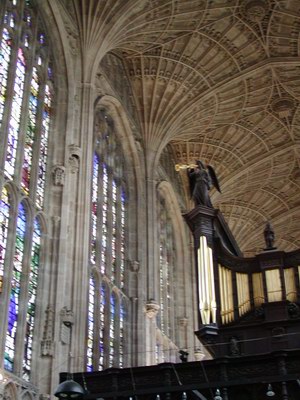 Walked along the backs a bit and saw several punters - brrrr.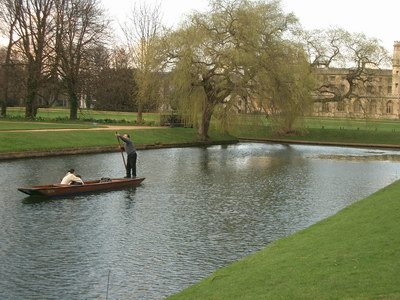 Gorgeous lawns, lovely trees about to burst into buds. We bought tiny notebooks in a WH Smith. Tired after the tour, we took a taxi back to the train station, and within minutes we were on our way back - nonstop - to King's Cross Station. We rushed home via the Northern tube and DLR, changed clothes, wolfed down a Goddard's Cheese and Onion pie, remembered to grab the binoculars, then began our evening with the incomparable Dame Judi Dench in Shakespeare's "All's Well That Ends Well" at the Gielgud Theatre in Leistershire Square. After transferring from DLR to the Central Line, the minutes were slipping by way too quickly for us. We needed to be at the theatre no later than 19:30 and it was nearing 19:00. Yikes! We still had to come to our stop, make 2 more changes, and then sort out where to walk. Were they giving away our seats? Was there any way on earth we'd be able to sit back, relax and enjoy our rare theatrical evening (at 40 pounds each!)?
As we approached the Bank stop, Gil made a brilliant suggestion: let's bail on the tube and grab a cab. And so we did. Lucked out on our driver - or perhaps they're all so nice to silly late tourists, dodging around traffic, diving down mysterious narrow lanes, and finally, as we approached near gridlock in the theatre district, he gave us very specific instructions to walk to the Gielgud. Amazingly, we made it just in the proverbial nick of time - our tickets were at the box office and they were still seating patrons. Indeed, all's well that ends well. What fantastic seats we had, in the stalls, near the center, row M. It was a lovely set, great, but simple effects, especially the brief military scenes. We enjoyed ourselves immensely. The show is here for a very limited engagement, and has been enjoying rave reviews.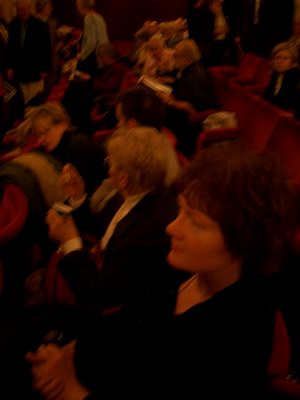 Tired, we return home via the tube and then somehow manage to remain awake until after 1:00 am.
26 March 2004
It's London Day, we decide. Or rather, after we venture to the Post Office (open at 0900 - 1730 M-F; 0900-1230 Sat) to purchase 2 lovely boxes and packing tape to send our excess items home tomorrow. The postal people were very friendly and helpful.
Our first London Day experience: to eschew the first leg of our usual DLR journey and instead, walk to the domed tower that contains the stairs down to the white-tiled foot tunnel built under the Thames around 1902 to allow dock workers to easily walk to work.
(Gil note: Where I do a very credible "Time Tunnel" impression.)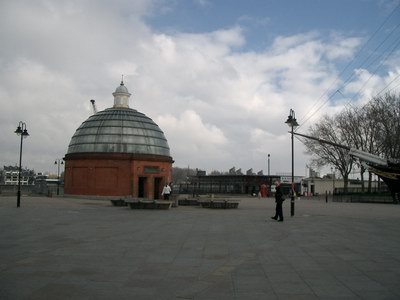 We walk under the Thames, to Island Gardens, now a lovely small riverside park with flowers and trees.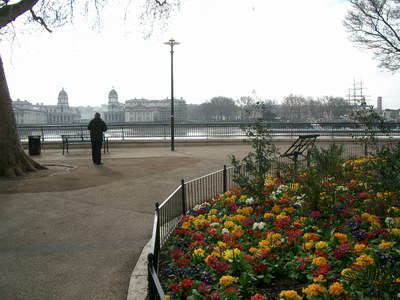 Then we board the DLR and go to Bank, then transfer to the Northern Line to King's Cross, so we can walk to our morning's quest: the British Library.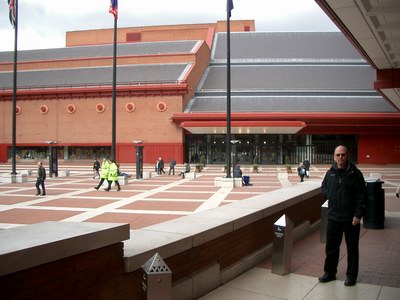 We spend our time there in just one gallery, but what a place: the Treasures. We hear Yeats, Virginia Woolf, and more, in headphone snippets from the extensive audio collections, and we see, in special subdued light cases, an overwhelming display of irreplaceable treasures: Captain Cook's journal, the October 21, 1805 official logbook of the Victory, tersely noting the death of Nelson, Jane Austen's small writing desk with some of her manuscript of Persuasion and pages from young Austen's 'English History,' original manuscripts of Jane Eyre, Alice in Wonderland (marvelous illustrations), Middlemarch, Rikki Tikki Tavi, and Gil's favorite display case - original Beatles documents, including the original jottings of Yesterday, A Hard Day's Night and She's Got a Ticket to Ride, and In My Life. Complete with changes and cross-outs, except for Yesterday, which apparently arose from Paul McCartney's hand in perfect form. Oh - photos are forbidden here, so Gil had to be sneaky...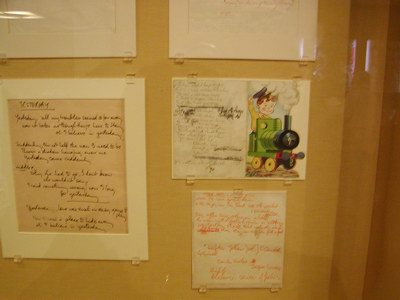 Other highlights: various Gutenberg Bibles, First Shakespeare Folio, and a uniquely informative display on the Magna Carta, from the original Articles with the Barons, to one of only 4 original copies (2 in British Library, one in Salisbury and one in Lincoln), then a beautifully penned Papal Bull which brought the 'authority' of the Magna Carta to an end after only ten weeks.
We walk to Russell Square tube station via Cartwright Gardens, noting our prior residences of The George and Euro Hotels, then travel to St Paul stop for The Museum of London. We enjoy a light lunch that costs us close to $40 (!). We then tour just the pre-London, pre-Roman, and Roman galleries. Fabulous exhibits and artifacts. Overwhelming, really. We can't go beyond the Romans...another day, perhaps.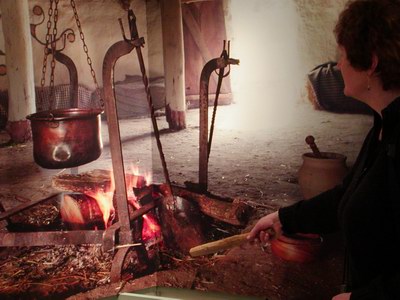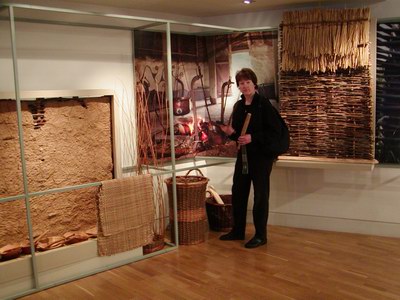 We walk for our third adventure - we hope to witness a criminal trial. Alas, all courts are already full. We walk miles more; go to the Cheshire Cheese (our favorite cellar bar is closed) and then Dr Johnson's house.
<>p>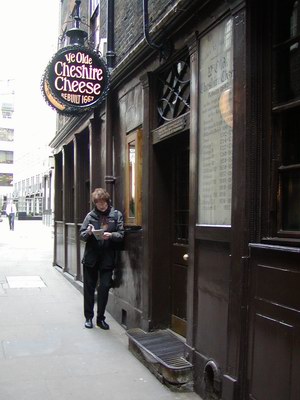 We don't go in, but I am immortalized by a film crew nearby - two young men with a video camera film my hands and camera as I fake take a shot of a statue to Hodge, the good doctor's cat ("and a very fine cat indeed"). They are making a short film of the statues of London. Giddy with my newfound fame, we carry on down the Strand towards Trafalgar.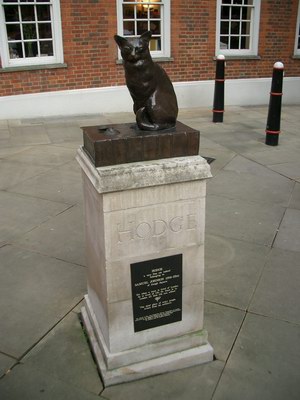 We have a quest - a new 'man purse' for Gil (this time more of a one-shouldered backpack) and a new travel bag for me. We look at a couple of places, but I buy only some brown mint cake - as nibbled by Hillary and Norgay at the top of Everest - at an international cheese shop.

At Trafalgar Square, we divert ourselves for a few moments at the Crypt Café under St Martin's in the Fields. Downed a cup of creamy veg soup and apple crumble (no custard this time, I am so exemplary).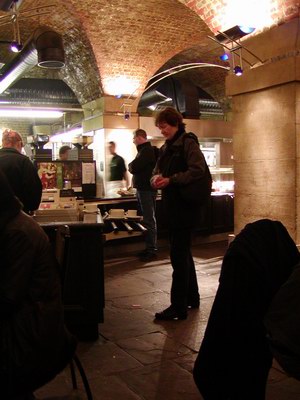 Back to Trafalgar, we admire the view - the sun is out - and the new pedestrianised north side. The empty plinth is back to its original forlorn state.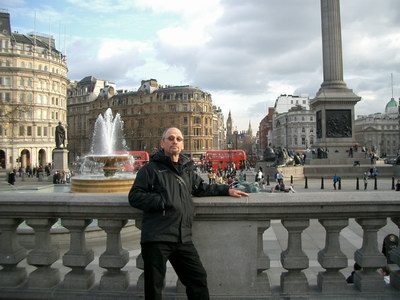 Our goal is the cinema complex at the Trocadero in Leicestershire Square, where we know that "The Station Agent" is playing. It turns out the Trocadero is a designated "fun center" full of flashing lights, loud noise and British teenagers...not really our scene...and the movie doesn't start for an hour and a half. We do the only sensible thing and run away as quickly as our tired legs can carry us! We decided to head on back towards Greenwich and home but as it was still a bit early, to go via the south of the Thames route. We grabbed a double-decker bus and scored the top level, front two seats (narrowly beating out some loud, obnoxious French children). Riding through London rush hour traffic in these seats is a bit like a Disneyland ride. Up high the speed of the bus is greatly exaggerated as everything quickly rushes up VERY close and then suddenly veers away at the last possible second!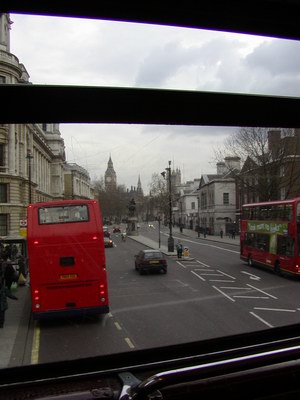 Back home in Greenwich again, Gil grabs a couple of pasties from Goddard's. One a minced beef and mushrooms and the other a sausage roll, which always surprises us in that it's not an actual sausage in a roll. In reality they're some kind of "mystery meat" wrapped in pastry...don't misunderstand me, they're still delightful simply unexpected.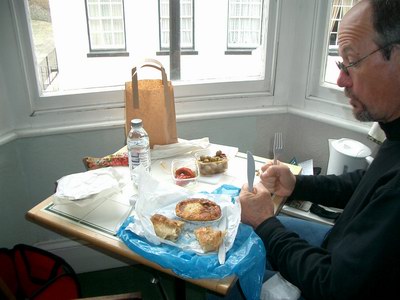 I (Becky) go to Marks and Spencer for a packaged tuna nicoise salad. We go home; we eat, we are again rather disappointed in our usual 4-5 channels. Mostly silly reality shows - hey, let's watch a chain of people buy a house. Or - let's watch a family move to the Hebrides! Life is good.
Saturday 03-27-2004
Up around 6, morning toilet, breakfast, yada, yada, yada.
Gil here...I'm still trying to get used to using the word "toilet." The British seem to use it all the time. They always get this confused look when I ask for the "restroom." The signage clearly states "toilet." So "toilet" it is...but using "the word" still makes me squirm a bit.
Gil finishes packing our 2 boxes of clothes and miscellany to go back home. We trot off to the helpful post office and try not to gasp when we pay nearly $200 to mail back our combined 11 kilos via 'standard' rates - semi fast (arrives no fewer than 5 days and is insured up to 150 pounds - going 'economy' would entail a minimum of 20 days to deliver and no insurance). We walk out trying not to think about what we just spent....
Next up - a brisk walk through Greenwich Park: Roman temple ruins, the remains of the oak where Henry VIII and Ann Boleyn danced and Queen Elizabeth I, too.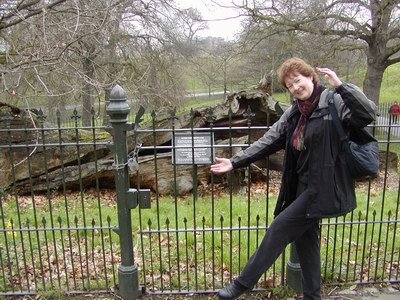 We made a quick duck into the Old Royal Observatory and Flamsteed House, mainly to see John Harrison's fabulous H1, H2, and H3 timepieces, and the incomparable H4 chronometer.
We descend the hill, enjoying the glorious views of the Old Naval Hospital, Canary Wharf and the Thames. It's market day in Greenwich, so off we go! I buy Italian nougat and Gil scores some home cured olives with chilies and some utterly delightful peppers stuffed with feta cheese and olive oil. We stop at Goddard's on our way home and buy a chicken and mushroom pie, a Cornish pasty (lamb and veg) and a blackcurrant/apple pie. 2.40 for the lot. This is how to live in London!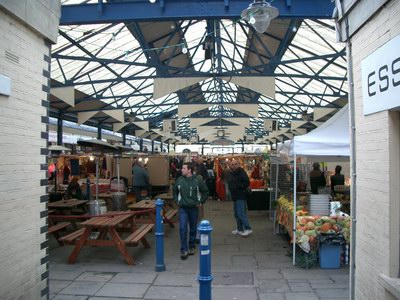 Now it's time to head via DLR to London, this time to Baker Street, and its various Sherlock Holmes\Beatles stuff. Before we arrive at 221b, Gil finds the perfect pack/man purse at a Samsonite store. The 2 Sherlock Holmes places are full of kitchy stuff. We are not severely tempted at either place. At the Beatles store, we're intrigues by a photograph by Astrid of John Lennon (all numbered and signed and in a run of only 500 prints) for around $600 each but come to our senses just in time...sigh.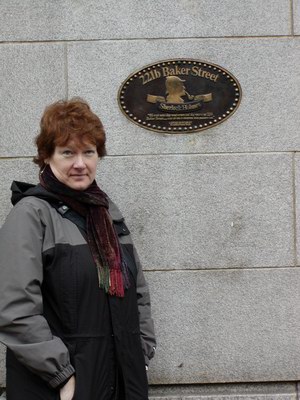 We enjoy a brief off-our-feet respite at a Starbucks, where we take some time off to just sit and watch the hordes go by and quietly absorb the fact that we are actually in London. Refreshed, we decide to catch a bus to the Strand, to catch the Courtald Gallery at Somerset House. It turns out that they are renovating the gallery, so all that's available are some of the Impressionists. A reduced entrance fee of just 2 pounds gets us in. We especially enjoy the many Rubens, 2 Van Gogh's including Man with Bandaged Ear, Manet's Bar at the Folies Bergere, Degas, Monet, Gauguin's Nevermore, and on and on.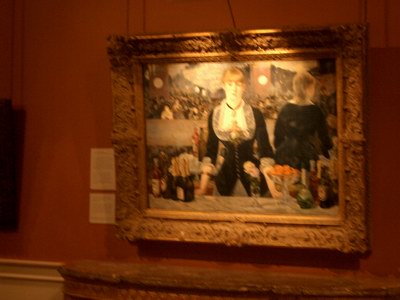 The museum contained many gems; it was compact but not overwhelming. We venture out into the large stone courtyard, and frolic in the walk-through fountains.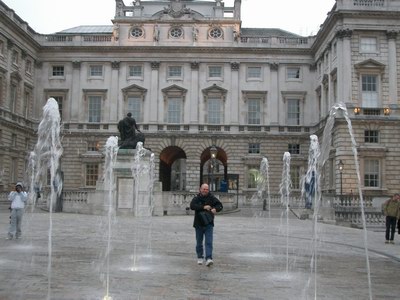 We decide to take in a movie in the Trocodaro. As we struggle through the crowds (it IS Saturday evening after all) we can't help but notice many HUGE spotlights and "professional" cameras along the way. We sauntered over to see what's happening. We couldn't help but notice that the rest of the crowd consists of young, teen-aged girls...we are quickly informed that everyone else are "extras," that they are shooting a commercial, and that our presence is NOT appreciated. Gil: Hey, no problem I hate commercials anyway and we have better places to be so we continue on our way to the Trock-a-Dero.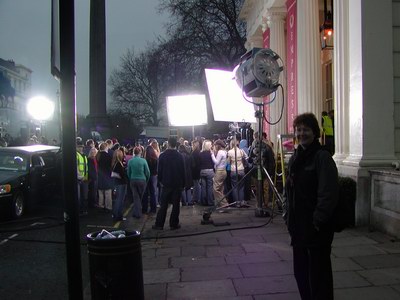 Once there, we buy our tickets for the critically acclaimed The Station Agent. (8.50 pounds each - that's about $16.00 each!!) We bought a couple of odd "hot dogs" at the concession stand -they were rather like grainy Vienna Sausages - this turned out to be our dinner. With his popcorn, Gil has the option of either salty or sweet. He opts for salty. No butter is offered.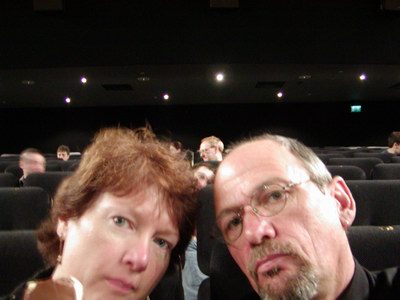 We enjoy the movie immensely; then head for home via tube/DLR. Takes 1 hour and 5 minutes from Piccadilly station to our door. We decide to do laundry - we leave for Paris in 2 days. Two large sink loads take only a little Woolite. We've got socks, panties and a few shirts hanging on our clothesline and radiator, drying quickly, we hope.
28 March 2004
The time has changed (one hour forward) and we must be at the Hampstead tube station at 10:00 for the Hampstead Heath London Walk, so we forgo our B and B breakfast and head for the DLR. Off to Bank (the only station we've seen that seamlessly combines DLR plus tube - at Canary Wharf and Tower Gateway, one must completely exit one station, then make your way outside for a considerable time before entering the next station), then to Northern Line towards Edgeware to Hampton. Gil has not yet had his coffee, aside from his usual morning 'stick' of Nescafe in our room. We try a Cadbury Brunch Bar and a packet of Wine Gums out of a vending machine while waiting at Bank. Thumbs up on the Brunch Bar (no, it's not a candy bar cuz it's got oats and bran and raisins) but, as Gil sagely points out, "These 'wine gums' are neither wine nor gum." It takes 30 minutes from Greenwich Maritime to Bank, by the way. We arrive at the ca 1910's vintage Hampstead tube station a bit early, so we pick up 2 grilled breakfast paninis at the Starbuck's across the street. Gil's choice - egg, sausage and beans -we deem especially tasty.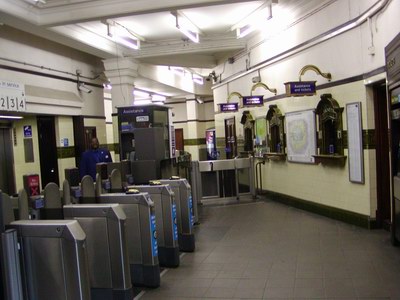 Our tour guide is an energetic chap in his 70's. Quite a character, and he does have the occasional spot of trouble remembering names, but his tour group helps him out.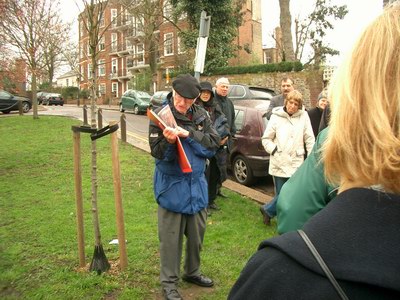 Things we learn/see: Hampstead started out as a source of water for monks, then later developed as a health spa, famous for its Chalybeate water. Many London doctors moved up here, 500 feet above the City. St John's church built for patients. Churchyard there contains many famous gravesites, including John Harrison of H4 fame. Many French emigrated here after the French revolution, several examples of French-inspired architecture, including a small Catholic Church. Next to it lives Dame Judi Dench. Nearby live Baby and Sporty Spice.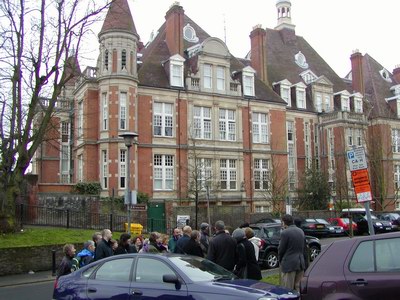 We see a pond, now enclosed by roads, that was decreed by Henry VIII for use by his horse guards. Our guide used to swim there naked as a lad. We see a small corner of the famous 2,000 acre Hampstead Heath. Hampstead consists of lots of windy, hilly little streets and alleyways and lovely homes. We catch a glimpse of the famous view of London, but the day is cold and overcast, so the view is limited.

At the termination of our 2 1/2 hour tour, we lunch downstairs in the buttery of the 18th century Burgh House, which used to be a private spa.
Dessert is a lovely apricot crumble, hot from the oven. We talk our table neighbors into having it, also.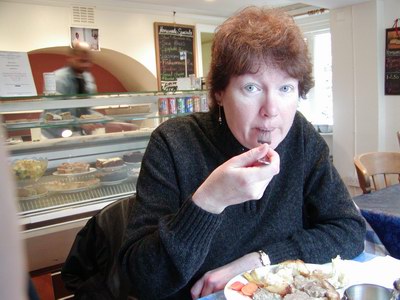 Back to the tube, this time headed all the way down to Pimlico for the Tate Britain.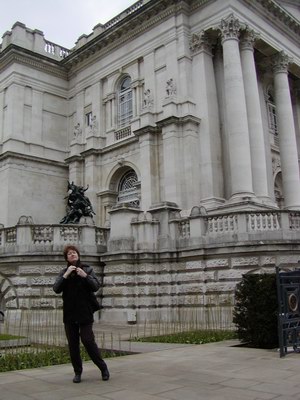 I pay to see two special exhibits - one devoted to the landscape artistry of the Pre-Raphaelites. I'm not too taken with the exhibit, frankly, although I did enjoy seeing Ophelia again. My second special exhibit is In-A-Gadda-Da-Vida, by three modern artists: Damien Hirst, Sarah Lucas, and Angus Fairhurst. Angus's billboards and wallpaper do little for me. Sarah's crucifixion composed of cigarettes is surprisingly beautiful and moving, and her pig family, covered in thousands of tiny glass beads, is a friendly bunch. But it is Damien Hirst work which grabs me, especially the huge vitrine filled with artifacts of decay - two halves of beef, a beef head, chopping block, umbrella, cleaver... Turned into an immense aquarium with many live tropical fish and eels.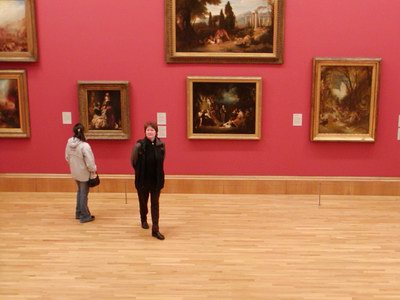 And then there's Hirst's 15 feet diameter wall hanging composed of dead flies and resin.
Gil and I also look at some Turner's and The Lady of Shalott before heading back to the Pimloco tube and the 150th running of The Boat Race. It's Cambridge in the light blues and Oxford in dark blue. Thousands of friendly people line the Putney Bridge and the banks of the Thames to watch the start of the race at 1800, for 4 miles up the Thames. It's all quite exciting and genteel.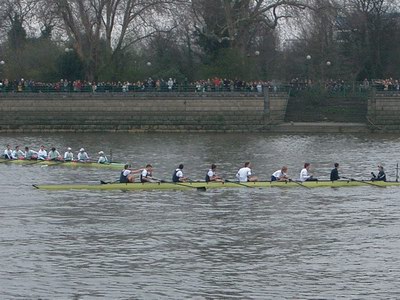 A large video screen is set up on the north side of the river. We're on the south side, just upstream from the Bridge, so we're in good position to see the beginning live and the rest on the screen. Cambridge wins handily.
So now it's many tube stops to our last night in our beloved Greenwich.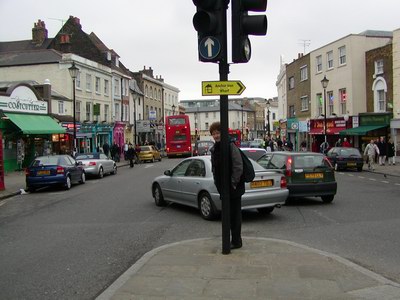 Goddard's is closed, alas. Gil makes do with leftover cheese and crackers. I get a takeaway noodles with sweet and sour chicken at a noodle shop on Church High Street - at only 3.40 for a large portion, here is, along with Goddard's, another inexpensive meal option in London.
Please click HERE to continue our tale wherein we spend 3 days/2 nights in Paris
---
(Return to Gil & Becky's homepage by clicking HERE)