London-England
(part 2)

We hopped the bus and rode down to St. Martin's In the Fields and had our lunch in the church's crypt. This was a tip we had picked up from one of Rick Steve's wonderful "Europe Through the Backdoor" travel books. One enters through the side door of the church and then proceeds downstairs into the basement (the crypt) where many of its ancient tombs are located. Here they had set up permanent counters and tables to serve lunch. This sort of thing, the casually-having-a-spot-of-lunch-while-lounging-about-on-dead-peoples'-graves-on-an-ancient-and-sacred-site, puts Daniel off somewhat and I have to admit to finding it a bit disturbing myself...but after all, food is food and lunch really must be eaten somewhere.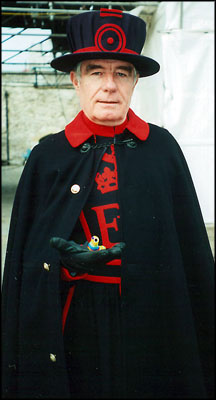 After a tasty repast we're off to the it's-really-been-done-to-death Tower of London! We examined a bit of the old Roman wall that once surrounded "Londinium" (the Roman name for the settlement at the site of what is now London) on the way past and headed over to the White Tower. Becky, Daniel and I had visited the Tower on our first trip but this was all new stuff for Awanna...one really has an obligation to see these sorts of touristy things when visiting - they are generally great fun and famous for a reason! Besides which the Crown Jewels of England are housed here and are simply undescribable (trust me, none of the photos you've seen of them can come close to the real deal). They can stand MANY repeated viewings. The people from Becky's office have a tradition that people on the road and travelling should take this small, brightly colored bird and photograph it in unusual locations. Becky singled out one of the Yeoman Warders from the Tower and shyly asked if he wouldn't mind holding it while she took their photo. His good natured response was, "you'd be surprised at the odd things I'm asked to do and hold" and presented the foolish bird with all the pride and dignity of his office.
Tired and foot sore we made our way back to the George Hotel. The lady behind the desk gave us a recommendation for a local fish and chip shop, North Sea Fish, which was only a very short walk away...perfect. We went back to our rooms and took in a little of the BBC news on the telly. Bad stuff. The countryside was in the throes of a foot and mouth outbreak and it seemed to be getting worse. The weather was bad news too...it looked like it was going to turn pretty ugly for us. It had been cold and gray up to this point but it appeared that snow was now on the way and that it might come down as far south as London. To the north (the direction we were heading) people were being stranded in cars and trains in snowdrifts and some were even having to be evacuated by helicopters. Oh my, time for bed.

Wednesday, Feb. 28th
Next day we're up early again, another full English Breakfast and then off to the Maritime Museum in Greenwich. Wonderful stuff here...including my favorite, the Nelson exhibit. One cannot make too much of the importance that Admiral Horatio Nelson (1758-1805) has for the British people and here at the Maritime Museum they have created a most excellent exhibit to this most amazing man (including the actual coat he was wearing when killed at the Battle of Trafalgar complete with bullet hole)...a must-see exhibit in which we spent too little time...after all, we were now in danger of being late for our appointment with the honorable Tony Blair and the making of present day history in the House of Commons and Prime Minister's Question Time!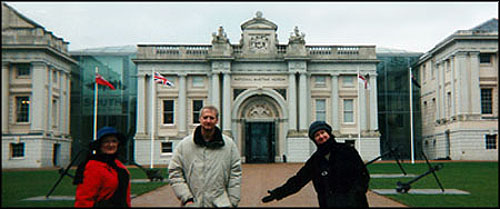 We hurriedly hooked the tube back into London and were confronted on the way with all the new construction going on in the "Docklands." What was at one time a down-and-out industrial/shipping area was being transformed into an upscale, yuppified area.

Arriving at Parliament, we were told we were two hours early...sigh. Time to spare so we crossed the street and took in an hour's worth of Westminster Abbey, including the throne built by King Edward that thereafter housed - beneath the buttocks of the English monarchs - Scotland's own "Stone of Scone" until 1996 (more on this later).
Back to Parliament - What a disappointment! We arrived in plenty of time, presented our invitations, signed in and were told to take a seat and wait. As it turns out we were not guaranteed seats for PMQT at all. Our passes put us on a lower priority list to be used if any seats were available. Unfortunately (but rightly so I guess) British citizens - even the little, bitty, tiny schoolchildren - were placed in line ahead of us and only Daniel (who was the first of our group to sign the waiting list) was able to get into the chambers and witness 10 or 15 minutes of the goings on...the rest of us were allowed to go in after Question Time was over and got to watch some of what turned out to be "Opposition Day" (huh?) and were able to see the Honorable William Hague (leader of the Conservative Party at that time) in action.
Our spirits being somewhat deflated we journeyed out into the increasingly cold and damp day to check out Winston Churchill's Secret WWII Headquarters bunker. It quite effectively showed us how how things were in back in those dark, grim days of WWII when London was under siege from the Germans. We were getting so tired and footsore we felt could walk no further. Have I mentioned it was cold...extremely cold? How 'bout it was POURING RAIN...did I mention that? Awanna made the brilliant, but heretofore unthinkable suggestion to simply hail one of London's million black cabs and go back home to the hotel. What an excellent idea...we're saved! Hooray!
We were simply exhausted from our long, long (have I mentioned long?) day so we headed back to the George, grabbed some sandwiches on "baps" (what Americans call a "hamburger bun"). Daniel tried the spaghetti with pomegranate and spinach sauce (what's with that?). We then got into our jammies and watched the continuing bad news on the BBC till we all fell asleep.

Thursday, March 1st
It came to me during the night that I should name the pigeon on our garret's window ledge Edgar. So the first thing in the morning I christened him...Edgar the pigeon it was. I threw him some of the leftover "bappage" from the night before...he looked pretty hungry and cold there on the windowsill and seemed most grateful. I stopped short of inviting him into our room.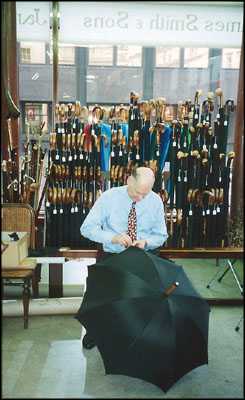 After our FEB (I'm going to start abbreviating the "Full English Breakfast" as it happened every day about this time and I'm getting tired of writing it over and over) we hit the streets walking and headed over to James Smith and Sons umbrella shop to take care of a bit of business. Both Becky and I had purchased traditional, black English umbrellas here on our previous visit. James Smith and Sons are arguably the best umbrella makers on the planet but during the period between our visits I had lost a button on my umbrella that holds it closed. I considered sewing on any old button myself but had decided to return it to "the source" and had packed it back to London with me to get the repair done right. I was informed by one of the gentlemen behind the counter that the seamstress who deals with buttons was unfortunately off that day but he would see what he could do. I told him that I would be happy to do the sewing myself if I just had the appropriate button...he was aghast. Please wait here, I was told. He opened the huge handwritten ledger that records every stick and umbrella sold by the shop, found my umbrella then rummaged around for several minutes through various button files and boxes, finally produced the CORRECT button (apparently each specific umbrella has specific buttons in specific places). He then brought out a stool, stripped off his jacket, threaded a needle and with the correct type of thread and the correct button, proceeded to mend it himself (reinforcing a second button that apparently was in some danger). He finished and passed me a spare button taped to a file card in case this unfortunate accident ever happened again). No charge. Is it any wonder why I love these Brits so?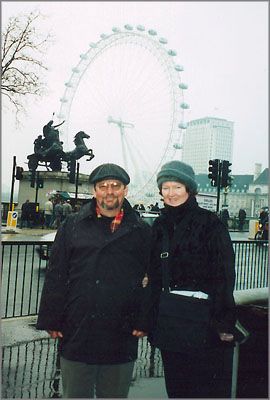 We passed the day doing another one of Becky's famous "forced marches" around town taking in, among other things, the new "Eye" (above) and the British Museum...there is way too much "must see" stuff housed here (including the Rosetta Stone and the Elgin Marbles!). We always seem to succumb to "museum burnout" here (and our tolerance for museums is quite high) WAY before seeing all of what must be seen. We did get to view the newly restored Reading Room and the newly covered courtyard...Splendid stuff!
Becky has taken to losing things. She's on her like third pair of gloves and now she's lost her bus/tube pass...sigh. Well, no problem, our spirits remain high and so far she's lost nothing that can't be easily replaced.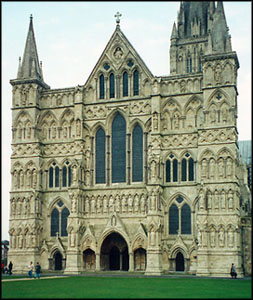 We made our way down to the Waterloo Station and hopped a train for a pre-arranged dinner in Salisbury (see map on first page) with our good friends the Martins. Daniel, Becky and I had made their acquaintance on our previous trip and had remained in touch (just this last summer they did a grand tour of our country and spent some time with Becky, Awanna and I here on the wild northern coast of California). Both Dennis and Barbara are bell ringers and Dennis is a guide at the Salisbury Cathedral. Barbara is also an accomplished painter and Dennis a gourmet cook...truly wonderful people. We had been hoping to be able to take in more of the Salisbury sites this time around. We were looking forward to being able to visit Stonehenge and Old Sarum but the foot and mouth outbreak was really starting to heat up and both these areas were now off limits to all foot traffic for fear of spreading the disease. Barbara took us on a whirlwind car tour (Dennis had recently had knee surgery and was on crutches so he wasn't able to join us) seeing but not stopping at Stonehenge, Old Sarum AND Sting's house (Madonna has stayed there!!!) which was just down the road. Barbara also snuck us by the guards (not too hard, they all know her) at the cathedral where we went inside for a few moments so Awanna could sneak a peek at her relative, William Longespee's, effigy.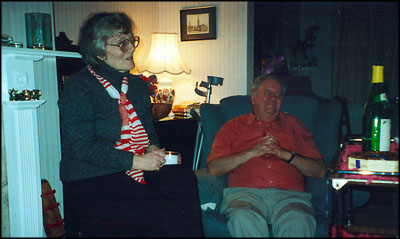 The supper and conversation were wonderful! Toast with salmon spread & pate, carrots (cooked in orange juice), green beans, chicken breast wrapped in bacon and poached in white wine w/herbs, potatoes, brussels sprouts, English and German white wine, crepes suzette, cream, biscuits and four kinds of cheese, almonds. Then chocolates and coffee in the living room...good god, what a feast! We chatted a while, left some gifts we had brought from our homes (redwood burl bowl from Humboldt County and barbecue sauces and a wooden buffalo from Kansas), then went back to the train station and to our last night at the George Hotel in London.

Please click on the famous Minster as we head north to the ancient walled city of York...

---
(Return to Gil & Becky's homepage by clicking HERE)