London-England

Our non-stop plane from SFO to Heathrow was FULL, FULL, oh my it's really FULL! Many of our fellow passengers were Muslims heading on pilgrimage to Mecca but this didn't stop the airline from showing what was a bottomless well of Harley Davidson biker shows (complete with lots of the stereotypical, hard-bitten, biker babes exposing acres of skin for the cameras) to the passengers...even though I have been known to watch and admittedly quite enjoy this sort of entertainment under different circumstances I found it a curious choice for United Airlines to make, especially on this flight full of devout people and frankly...I was somewhat embarrassed by it all.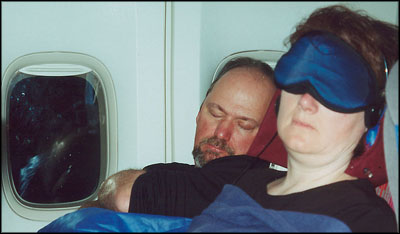 After the usual grueling, 10 hour, economy flight marathon we arrived in London's Heathrow airport at about 12:30 p.m. (GMT) in semi-fine fettle and pretty much okay to rumble. Daniel had taken a similar flight from his home in Wichita and had arrived an hour or so before we did. He was there to greet us after our arrival and as soon we had been cleared by British customs. Pretty good start...let the fun begin!

We, being the old pros we were at this (done it twice now) sauntered on over to the Visitors Center, picked up our pre-arranged for Tube/Bus passes (4 days of unlimited riding on London's buses and subways...thank you Becky) and hopped onto the Piccadilly Line Tube (subway) for an exciting ride into London (the tubes are one of my favorite attractions in London...but then I'm a simple man) our destination being its stop at the Russell Square Station.

After arriving at said station deep in the heart of London's Bloomsbury area it was a short 10 minute walk to the Cartwright Gardens Crescent and the George Hotel. We had stayed right next door at the Euro Hotel on our previous trip...both hotels are completely adequate, competitively priced (for London) and very similar. Awanna and Daniel were booked into a nice, en suite (with bathrooms in the room...while our's were "down the hall"..."en hallway" I'm guessing) room on the ground floor while the Beckster and I were ensconced in what we could only refer to as our "garret" (complete with pigeons to feed perched on our window ledge) waaaay up on the FOURTH FLOOR with the only access being a narrow, winding staircase. How steep and narrow was it you might well ask? So steep that when standing on one step the next step was at knee-height and so narrow our bags had to be carried front to back instead of the more usual side by side and with NO ELEVATORS! On the plus side we were the only lodgers way up there in the nosebleed section and we had the entire run of the 4th floor including the 2 public bathrooms (Becky and I don't really mind having to go down the hall to use the facilities) whereas Awanna and Daniel shared their small, in-room "bathroom" that was so small it looked like it had been chain sawed out of a Winnebago. It was really only large enough for about half a person to use it at any one time. Lodging in London continues to be somewhat of a problem. It tends to be quite pricy compared with the rest of the U.K. and somewhat austere...but then again it's really part of the fun.
After a brief rest and reconnaissance of our surroundings, we took the short walk down Woburn Walk and gorged ourselves on some Indian food (lots of GREAT Indian food in the U.K.)...Chicken tandorori, nan and cucumber raita...yum! Our hunger satisfied, we then walked back to the George and made the long climb up to our garret for a much needed night's rest. Jet lag is not our friend.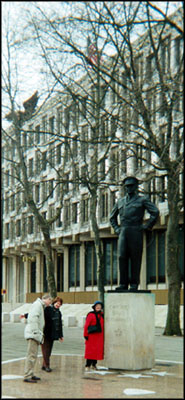 Tuesday, February 27th
The next morning, (after the obligatory Full English Breakfast) now feeling much more sassy and completely refreshed, we headed off to the American Embassy to pick up tickets to gain admittance to "Prime Minister's Question Time" that Becky had perviously made arrangements for. PMQT is a weekly event, taking place in the historic Parliament Building (think of the large, ornate buildings attached to Big Ben), in which the members of the House of Commons pummel loaded questions at the Prime Minister (currently the Honorable Tony Blair). It can be quite contentious and I find it very exciting to watch...but then again I'm a known sucker for seeing democracy in action. Becky had arranged for these tickets months in advance through the U.S. Embassy and they were to be picked up there. Hot damn, I thought, as American travellers abroad we will certainly be treated in a very special way here at our beloved country's Embassy...WRONG! We were treated with cold formality and suspicion as though we were some kind of common terrorists just off the street (this was prior to 9/11...I can't imagine what it must be like now). First off, the embassy is a huge, godless monolith (see photo above) complete with those odious concrete, tank stopping blockades on a city square otherwise filled with some of London's most lovely Georgian buildings. There is an thoroughly unpleasant statue of Eisenhower in front and a simply enormous, overly dramatic eagle on its top. Please don't bother to send me negative emails on this...I understand these precautions are simply a reaction to the tenuous times we live in. The trouble being we saw a lot of different country's embassies while in London and ours is the only one that seemed to have taken all these in-your-face precautions and to have done it in such incredible bad taste. Once up the steps and presenting our green American passports we were only allowed access into a short, narrow corridor with a desk built along one end. The tickets to PMQT were proffered, we took them, said thanks but didn't linger.

We walked the couple of blocks down to Hyde Park (above), to cleanse the bad taste of this episode where Daniel pulls one of his amazing stick-out-the-camera-at-arm's-length-and-get-everyone-in-the-picture-even-getting-the-background-right tricks (I believe I stole this picture from him and hereby give him credit for this shot).

Crossing Hyde Park we came across one of those uniquely British sort of things where suddenly, magically you are transported to another place and time. While trying to cross the street on our way to Harrod's we were delayed momentarily while the QUEEN'S MOUNTED GUARD (no kidding!) passed by. The natives pretty much took it in stride but we were amazed.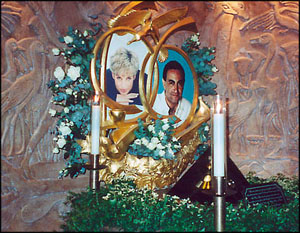 I'd never been to Harrod's Department store before and will probably never go again. A classic example of the old axiom, "money can't buy you good taste." The current owner, Mohammed Fayed has completely redone the interior in some sort of bastardized Egyptian theme (including "Egyptian" escalators...ack!). It's really not to my taste. It was Mohammed's son Dodi who was killed in that tragic car accident in Paris which also claimed the life of the Princess Diana. On the lower floor he has created a shrine to the couple using his same questionable taste, to commemorate their time together. The shrine consists of the pictures you see above, a wine glass they had supposedly used and a large diamond ring (Mohammed claims it's an engagement ring...no one else seems to know anything about that). I bought nothing at the store, Daniel played with the radio controlled cars, Becky bought some chocolates and Awanna paid the 1 pound charged to see/use the ladies room...bah!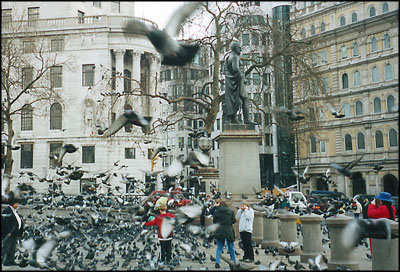 We caught the bus to Piccadilly Circus then hoofed it on down to Trafalgar Square, quite possibly my favorite area in London and I was once again amazed by the beauty of the buildings, the majesty of Nelson's column and the INCREDIBLE FRICKIN' NUMBER OF PIGEONS! Incredibly huge swarms of flying vermin! No one seems to really mind but me...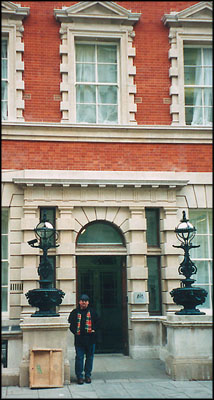 Not too far away from Trafalgar Square was the old British Admiralty building (above). Becky, Daniel and I had recently read the entire 20 volume Patrick O'Brian Aubrey/Maturin series on England's navy in the 18th century. We were all excited to see the actual building that housed the the offices of those in command when "Britain Ruled the Wave!" Well, it's no longer the Admiralty (or is it???) and we got in only as far as the main entry hall before being stopped by some very buff looking security stiffs in suits. Them: "You can't come in here" Me: "Who are you and why not? Them: "This is a private building." Me: "Isn't this the old Admiralty?" Them: "Yes it is but this building is not open to the public." Me (figuring what can they really do to me...I'm an AMERICAN): "On what authority...isn't this still a public government building?" Them: "This is a government building but it's private." Me (visibly swelling): "I want names and badge numbers...are you telling me that you are DENYING me the right of access to government..." at this point Becky gently took my arm and led me outside. I think she sensed I was beginning to enjoy myself a bit too much and no good could come from it!

Please click on the London Black Cab to continue with our time in London...

---
(Return to Gil & Becky's homepage by clicking HERE)