OXFORD

Now it's Friday the 13th of March...we take the train from Paddington Station in London to Oxford. I love traveling by train and really looked forward to the ride...it turns out it was ok but very un-exciting.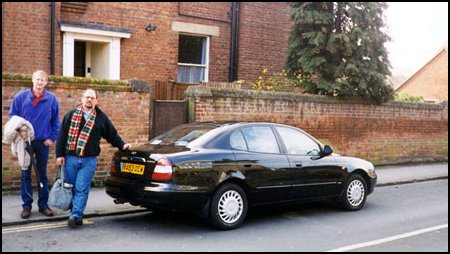 Once we arrived in Oxford we found the Avis Car Rental place and picked up our car (a Korean "Daewoo") for the trip...OK, now we're talking...we got us some wheels and it's shiny black! I plaster the suctioned cup California license plate with "Don't Worry...Be Happy" in the back window and we are off to see Oxford! Becky's elected to drive because she's driven in England before. Daniel is co-pilot/navigator because his legs are longer than mine and can't fit into the back seat. Ok, that's fine, I can live with that...the entire "kingdom of the back seat" is mine and I have NO driving responsibilities whatsoever. We have booked no accommodation in Oxford so we decide to drive around looking for a B&B...this was a big mistake. Oxford is an ancient town and was not designed for vehicles. The roads are all former footpaths (arguably still are, just paved footpaths) quite crowded with both people and cars. Becky is driving in a strange car with all the controls on the wrong (right) side and driving on the wrong (left) side of the road, she's cutting every corner...the lefthand side of the car is taking a serious beating (when we finally come to rest after a harrowing journey, we find the lefthand tire's sidewall split and the rim and hubcap beat to pieces)! Oh well, any drive you can walk away from is a successful drive! We end up parking the car in a tow away zone car park (parking lot) and just walk away from it, figuring we'll take our chances on losing the car and going with the mass transit till we find a place to stay. [note from Becky: Remember that Gil has a marked tendency to exaggerate. A couple of small dings on the hubcap and a scratch across the tire. All from one small misstep off a curb. Don't believe Gil when he says it (the curb) was three feet high.] [note from Gil in response to Becky's response: ok, two feet high then...and the front end vibrated the rest of the trip.]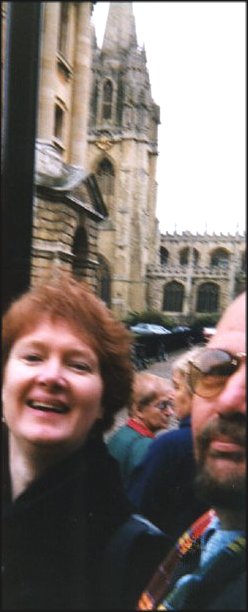 This pic is me trying to "Do a Daniel" (camera held out at arm's length, pointed back at youself and voila!) It always looks so easy when he does it. My self portraits just never seem to work out quite like his do. While I was amusing myself like this we were walking to the local "Tourist Information" office. We came to depend on these places. They will find and book lodging for you anywhere in the U.K. and are treasure troves of information...write this down, it's a hot tip!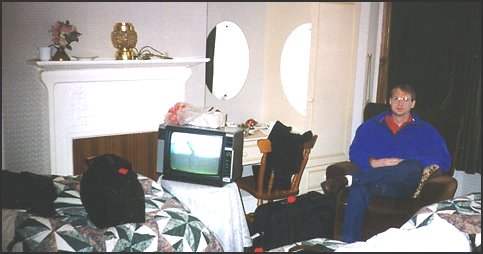 After retrieving our car (it was fine and the tire hadn't gone flat...yet) we found our digs for our overnight stay in Oxford...not bad or good. Some of the places the Tourist Info people booked us into were merely adequate, others were wonderful...they were always enough. After unpacking we hooked the bus back into town for a further look around, had some drinks in the "Mitre Bar" (Clinton's hangout during his "not inhaling" period in Oxford) and returned back to the B&B for a little BBC on the telly (television) and a well deserved rest.

The next morning...we had bought ourselves tickets to a 2 hour walking tour around Oxford for the next day...it turned out to be a delight thanks mostly to an amusing/informative guide (Marcel, prolific in 4 languages) seen in profile here two people to the left of Daniel (our left, not his).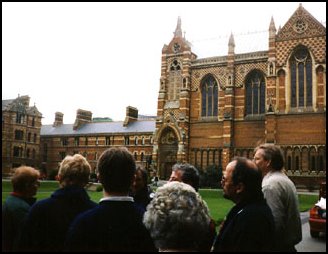 We were guided through several of the colleges at Oxford (there are like 30 something, all old, all VERY respectable). The one above is Keble Collage and one of the newest...Victorian. We saw the famous painting "the Light of the World" in their chapel (of course we had just seen the EXACT same painting at St. Paul's Cathedral just a few days earlier...no, no we are told THIS is the original, THAT is the copy, even though they were both done by the same painter).

We also were shown parts of Jesus College and the Bodleian (which I insisted on pronouncing Bo-Diddlian, mostly to annoy Becky) Library. Becky and Daniel climbed the University Cathedral's tower...I passed, my legs were just starting to heal from the St. Paul's climb.

Before we loaded up and headed for Wales we stopped by "Blackwell's Bookstore" and Beck picked up copies of Dorothy Sayers' new book "Thrones, Dominations" and a paperback (with the Radcliffe Camera on the cover, a local landmark and the picture at the top of the page) of Inspector Morse's latest adventure, "Death Is Now Thy Neighbor." Then we are off for the Motherland!!!

...next up, Wales, "Right!"
---
(Return to Gil & Becky's homepage by clicking HERE)