SEARS POINT (Infineon Raceway) AMA SUPERBIKE RACES-2003
Having just returned yesterday evening (Monday) from spending a 4 day weekend at the AMA Superbike races at Sears Point in Sonoma, California I thought I'd quickly post a few of the images I took along the way.
I rode down on my 1998 Triumph 900 Sprint Sport on Friday hoping to be able to watch some of the practice laps and join in the CHP escorted evening ride to the Pyramid Brewery and outdoor movie in Berkeley. I rode for the entire day in a driving rainstorm...there were no practice laps, no evening ride, nothing, nada happening. Actually the ride down really wasn't too bad. I had prepared for a wet ride with Gortex riding boot (Alpinestars), waterproof gloves (Joe Rocket) and a full, one-piece rainsuit (TourMaster) and stayed quite dry and snuggly for the entire 250+ miles. To find a soggy track with nothing going on was a disappointment however.
I hooked my wife and brother-in-law Daniel (who had flown in from Wichita for the event) at our motel in Novato that evening. Next morning we went to the track under cloudy skies and scattered showers and were confronted with this...
...no action in the pits.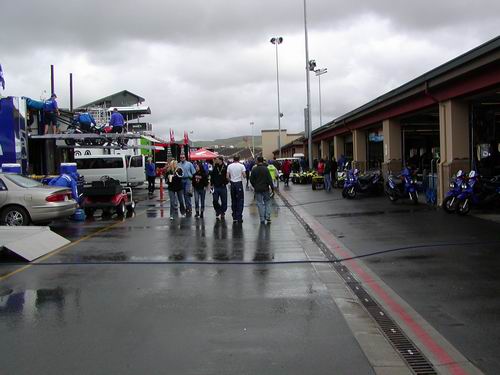 ...no action in the track-side, hot pits.

...and no action in the stands!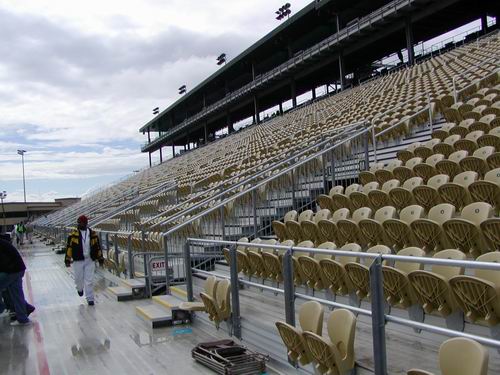 The nice part of this all is that there were few fans around and all the racers were on hand just hanging out, chatting with passerbys and signing autographs.
Miguel DuHamel (who would crash bigtime, broken collarbone, right in front of us the next day during the 600 Supersport race)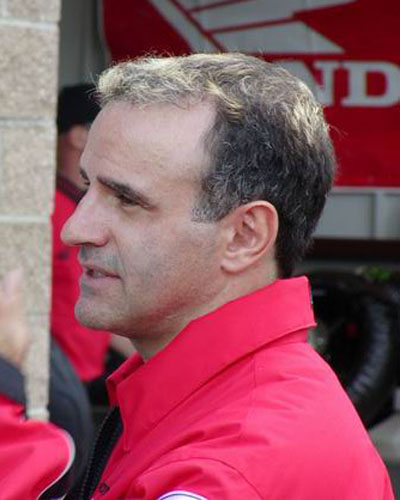 ...my wife Becky chatting (flirting) with Eric Bostrom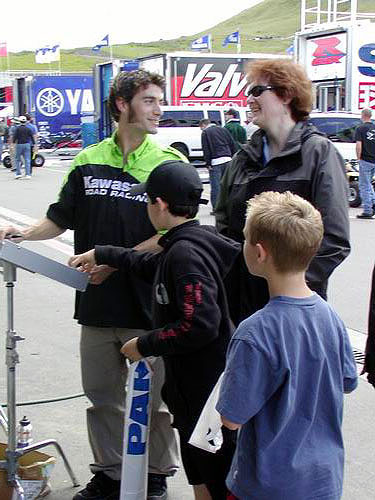 Doug Chandler (in leathers) and Tommy Hayden (in stocking cap)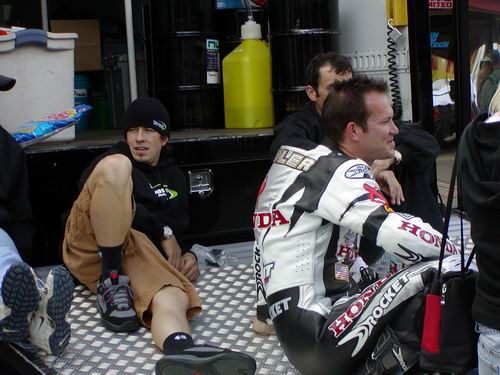 The rain had stopped and the track crews were busy trying to dry the course with a big turbine engine pulled behind a pickup as well as cars, fire trucks, etc. driving around and around the track. It was drying pretty quickly but had a few problem areas where water was actually working up out of the ground and was being VERY stubborn about going away (mostly in the new turn 9a).
"Super Cuts" is one of the sponsors for the meet and they had set up a "Haircuts for $10" booth behind the stands with all the proceeds going to a children's charity in the name of motorcycle racing (BTW, thank you Super Cuts for sponsoring the even and the all the charity work!)...so I thought since is was so slow I'd get a haircut.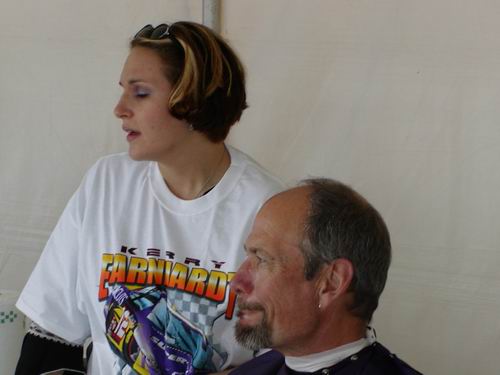 ...when who sits down two chairs away but Ben Bostrom with Greg from "Greg's Garage" (Speed Channel) and his camera crew all in tow!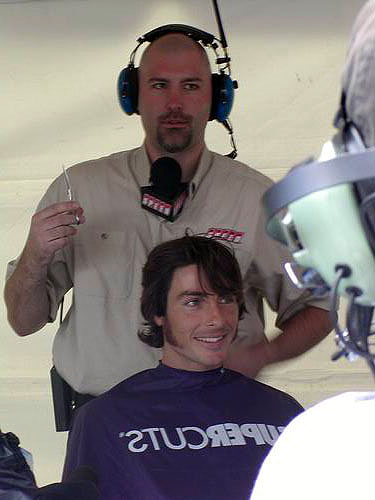 ...after finishing my haircut and getting some gold highlights put in (I looked quite foolish being a seriously middle-aged, balding guy but it was an extra $5 to the charity) I walked over to Ben and suggested that he "go for the gold" also. He chatted me back and I admit I came away quite impressed by his down-to-earth-unassuming nature...nice guy.
The racing was still rained out so we took a stroll through the vendor booths and bought a nice pair of Arlen Ness sportbike (I didn't even know AN made sports gear), summer gloves...at a killer price (about $20 less than anything I've seen since on the web)! We also got our first viewing (and of course sitting upon) a couple of new-to-me bikes...
...the new Suzuki 1000SV

...and the previously only available in Europe, yellow V-Strom.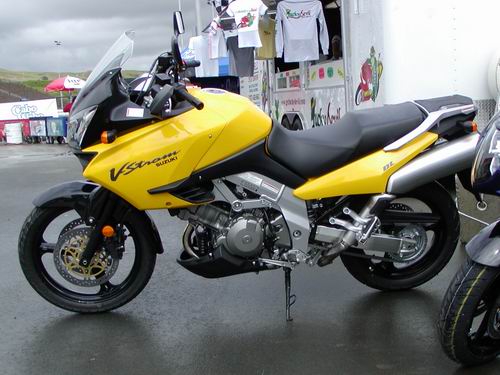 ...as well as the new Honda 600RR in the pits (no sitting on these)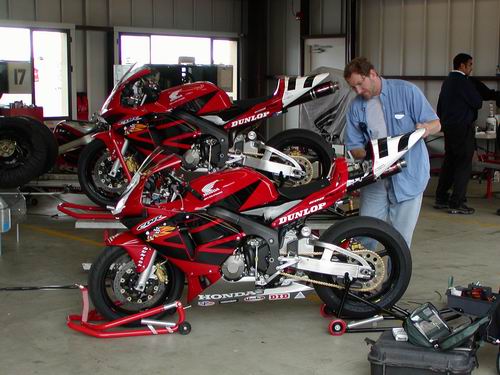 ...and this Dodge Tomahawk with a Viper V-10, 4 wheeled monster that they fired up for us (notice oil underneath...very bad)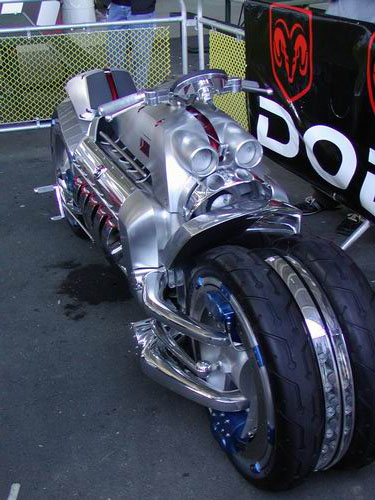 At about 3 o'clock the track announced that there would not be any racing for the rest of the day (and will refund ticket money) so we decided to go into San Francisco and visit Munroe Motors (the Moto Guzzi, Triumph, Ducati and MV Agusta dealership...WOW!) where I seriously lusted after a limited edition Guzzi LeMans then came back to the motel we were staying in in Novato for much needed rest.
THE NEXT DAY...SUNDAY

It was still dry! Upon arriving back at the track we were confronted with...
...filling stands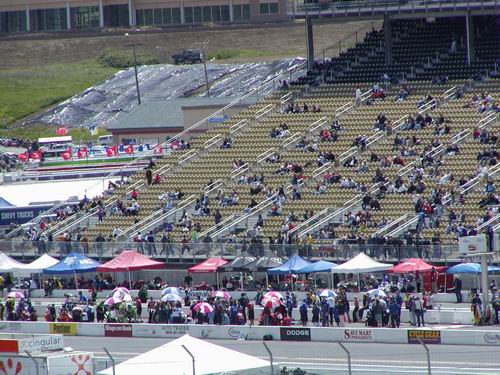 ...action starting in the hot pits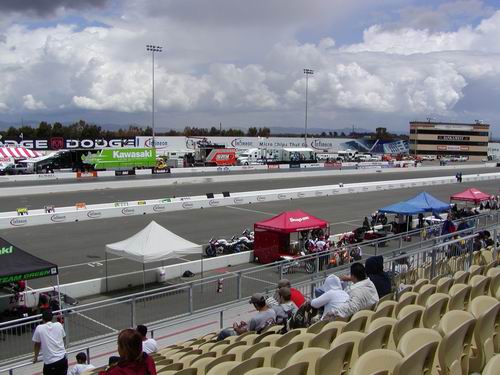 ...and then some actual motorcycle racing!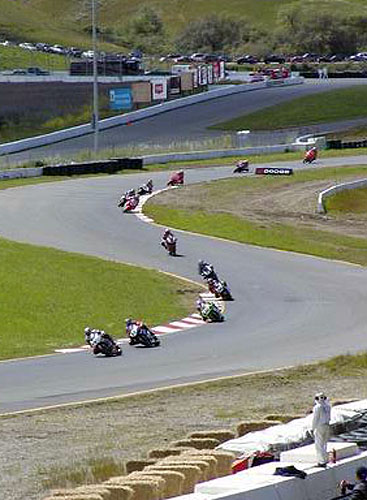 They crammed two days of racing into the one day by eliminating the qualifying. The grid was set by using the riders current point standings...fair enough. I won't bore you with results from the races, they are available many places on the web (I will pass my dubious insight that the Suzuki Superbikes will remain unbeatable this season) but instead will show you a few of the pics I took.
Aaron Yates (with a second), Mat Mladin (first) and Ben Bostrom (third, no "gold", hmmm)from Superbike Race #2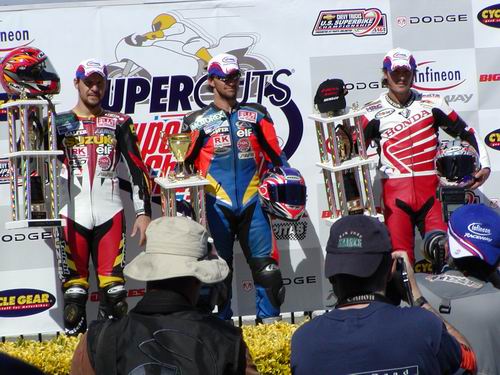 Aaron Yates, after spraying the crowd, pouring champagne on the potted plants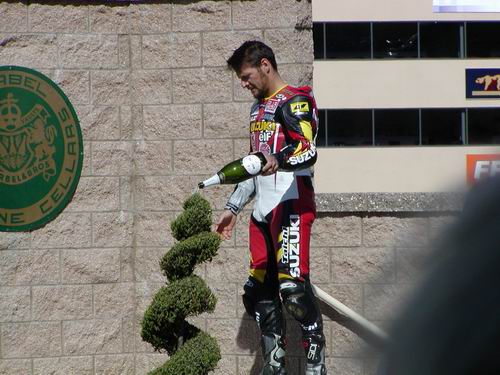 Jamie Hacking, who won the Supersport 600, being interviewed by Greg's Garage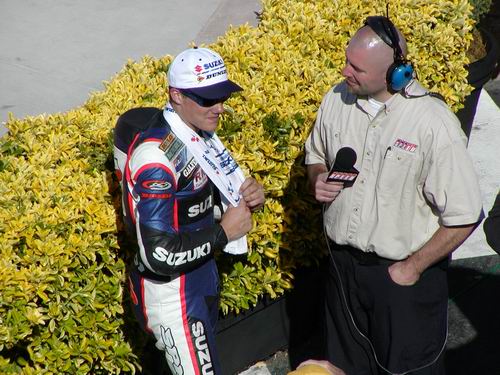 ...and finally me scouring the stands at turn 9 looking for fellow Sport-Touring.net buddies (notice my official "colors"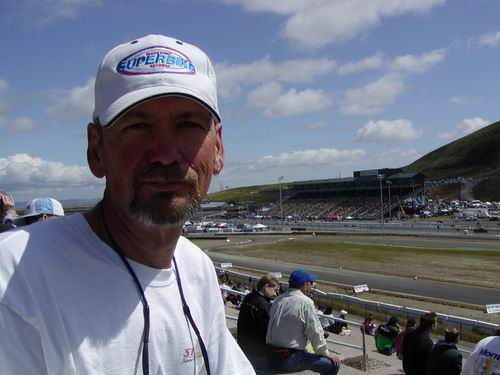 I loaded back up on a beautiful, clear Monday morning and headed out through wine country for a lovely ride home. I stopped for gas in St. Helena and couldn't help but notice a large puddle of oil underneath my bike! After frantically finding some synthetic oil and then miracle of miracle's a Honda dealer with a wonderful mechanic open on a Monday (thank you Parriott Motors)got the oil flow coming out of a bad seal in my master clutch cylinder slowed enough for me to continue on home...stopping for a delightful lunch at the Fetzer Winery in Hopland along the way.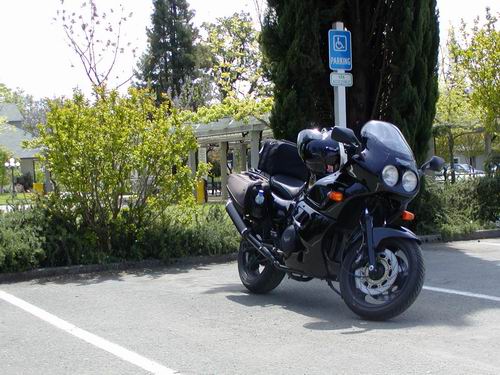 All in all an excellent weekend of racing!!!
---
(Return to Gil & Becky's homepage by clicking HERE)