May 2003-Northern California 3 Day Circumnavigation!
(in which we find our intrepid hero taking the long way home from a union meeting...)

I loaded up my 1998 Triumph Sprint, kissed my wife goodbye and left my home in Eureka, CA at about 9:30 on a clear but cold Saturday morning. I was heading east on Hwy 299 heading for the quarterly meeting of the C.L.S.A. (California Log Scaler's Association...our union and I am its Secretary) in Redding, CA.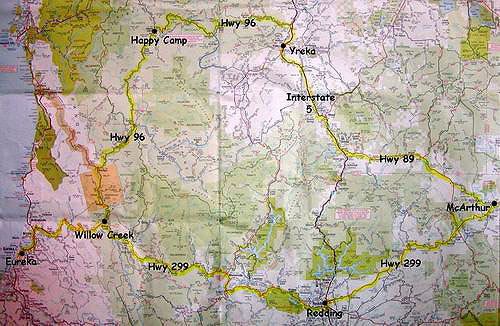 It is my personal belief that Hwy 299 is one of the greatest motorcycle roads ever and is totally suited to my style of riding. I don't "carve canyons" (ahhh, age) and mostly love those big, swooping turns and glorious scenery...that's 299. It has just enough twisties to keep you on your pegs but enough straights and slow curves to be able to relax somewhat and enjoy the early Spring scenery.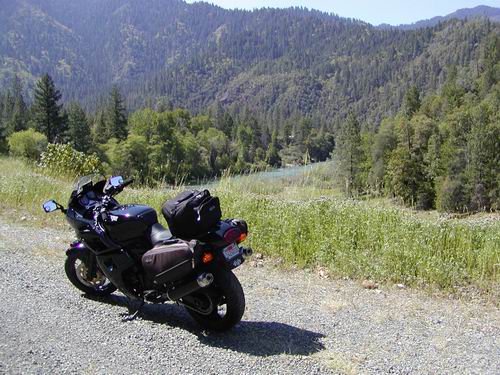 I was thinking that perhaps I'd been a bit premature taking the liner out of my leather jacket...while the skies were clear there was a pretty stiff, cold wind blowing through the canyons and there was still some lingering snow on the higher peaks...what a great excuse to stop off and warm up at my favorite coffee stop in Big Bar. The "Straw House"...great coffees, lovely view, nice sheltered patio, friendly dog (get away from that bike ya brute!) and a building whose walls are built out of straw bales...nice folks (that's the owner's yellow Honda CBR out front).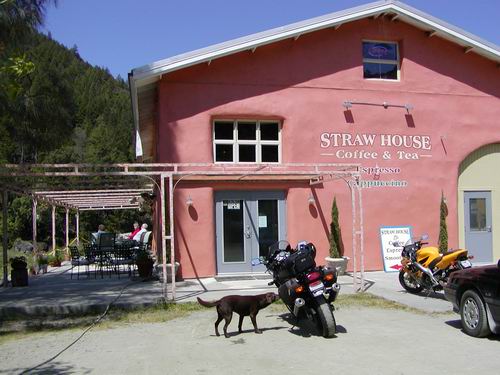 I continued on (now glowing with a semi-serious, double expresso buzz) to Redding and arrived with enough time to spare (the meeting wasn't scheduled to take place until 2:00 p.m.) to visit "Motorcycle Recyclers" to pick up a couple of parts I needed for the old Kawasaki back home and then proceeded on to the meeting. Once it was over I found myself a room right next door at a Best Western which turned out to be pretty much of a dive...but adequate for my needs. My room is the one with the door open and lights on. It was all that was available on the ground floor (I like ground floors when motorcycling as I can better keep an eye on my bike that way) and was a "smoking" room...so I did. I smoked my cigar, drank a little whiskey, called my wife Becky at home and watched some mindless television till about 10 and then called it a day.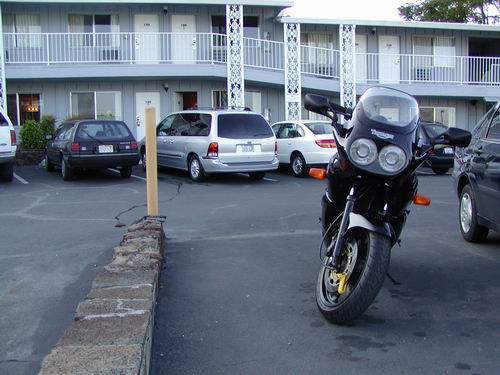 It was while I was unpacking that evening that I had the only breakdown of my entire trip. The zipper on my aging and much abused Joe Rocket Sportbags came loose. Fortunately I carry a gob of nylon ties and a "Leatherman" all-purpose tool with me and was able to make a somewhat "Frankenstein-ian" repair on them. Not pretty but the zipper still functions.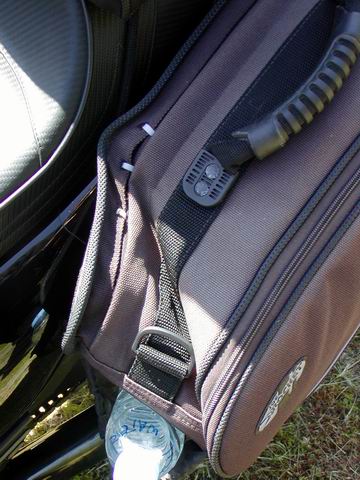 Next morning at about 9 (as soon as it warmed up a bit...still quite windy, not a good sign) I jumped back on the bike and pushed on further east up 299 and into the foothills of the Cascade Mountains.
Lovely and cold...the wind continued to pick up stronger and stronger. At one point I was following a horse van at about 50 m.p.h. and being buffeted around pretty badly. A large hawk (VERY large) was just taking off from the side of the road and got caught in the wind vortex around the van and blown backward and downwards directly at me. I rolled off the throttle and actually had to duck my head to keep this turkey-sized-bird-of-fricken'-prey from taloning my helmet!!! I passed the van at a fairly high rate of speed on the next semi-straight stretch...double yellow lines be damned!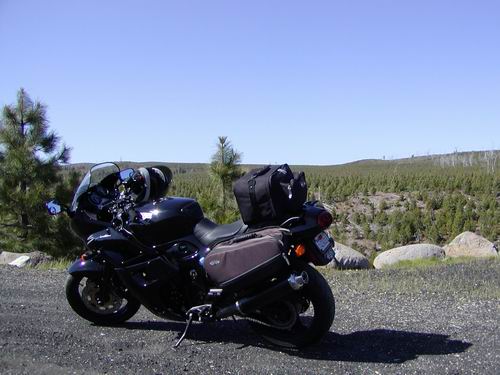 I was up near Hatchet Summit now and the wind was as fierce as any I've ever ridden in. It seemed to come from everywhere. About 50 m.p.h. was about all I could do and just forget about leaning hard into corners...about the time you commit yourself to the corner the wind would shift and try to take you right on over. There had been a huge forest fire through here in 1992 that burned 48,000 acres...pretty surreal to see now and it now gave NO RELIEF TO THE WIND AT ALL! I was actually afraid it was going to blow my 500 lb. bike over while I took this picture.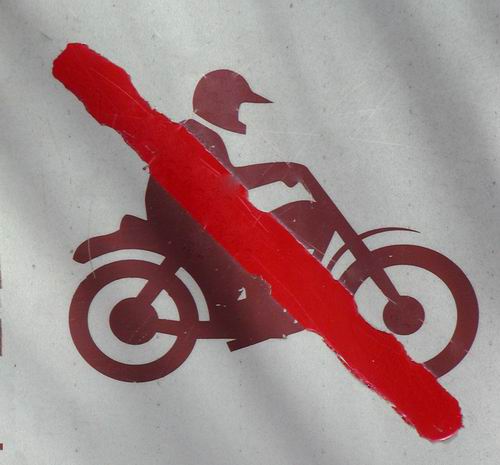 After passing through Burney I hooked a small detour north on hwy 96 to view Burney Falls...no motorcycles allowed past the parking lot (don't like to see this kinda thing).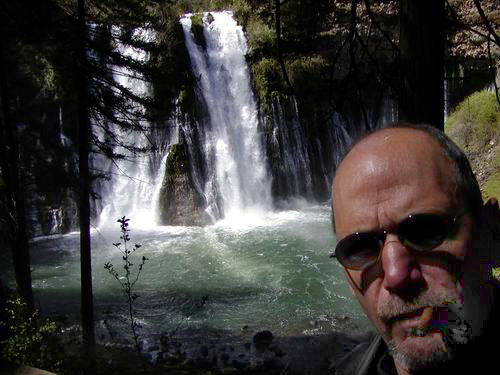 Me, at the bottom of the falls...pretty spectacular (the falls, not me).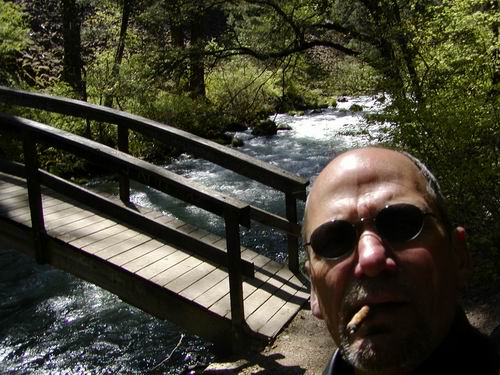 Me, crossing the creek at the bottom of the falls (the 1+ mile loop trail around the falls is recommended...although not necessarily with motorcycle boots on).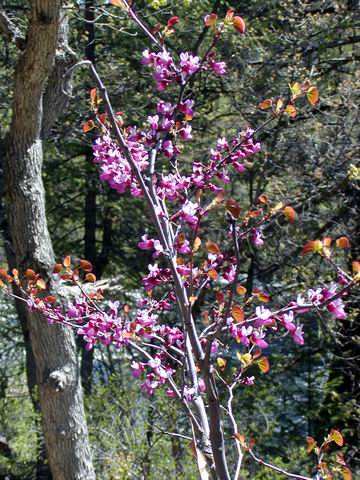 ...the redbud is starting to bloom :-)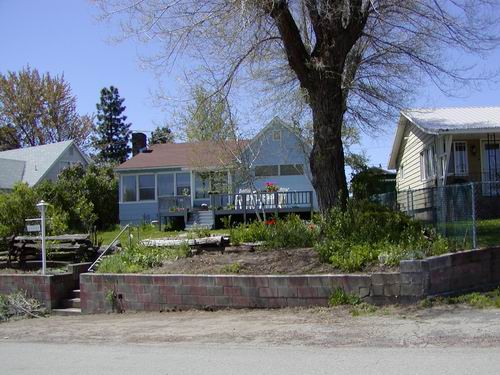 Back down to Hwy 299 and then a little further east to the town of Fall River Mills (home of Russell Seats...sorry, I use a Corbin). I used to live here 20 years ago and went by to view my old house (hmmm, they've added a deck out front...very nice).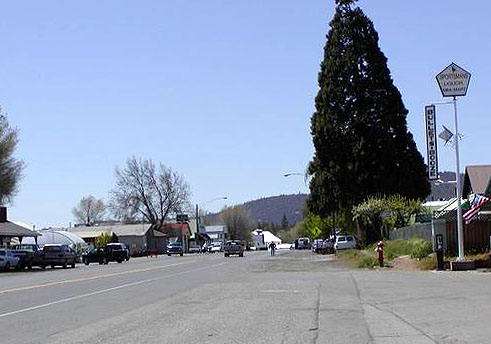 The main street of Fall River Mills...still a small town (600 souls) and I was glad to see that while the rest of the state has become politically correct that "Bullets and Booze" (at the right of the picture) is still in business.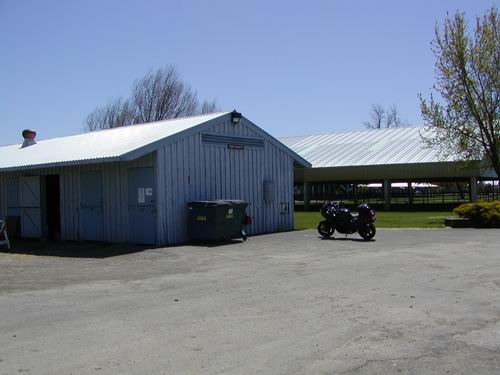 The fairgrounds in McArthur where I used to keep my horses (I raised racing quarter horses for awhile...not recommended for a working man $$$), hasn't changed much.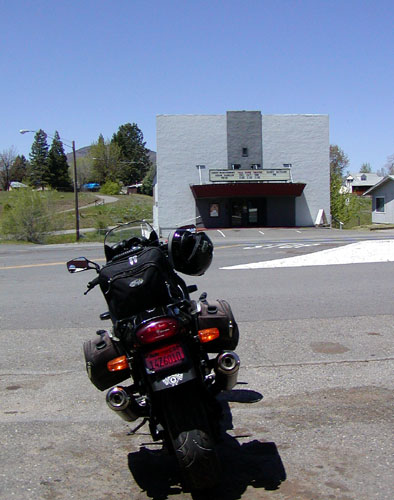 I found a great lunch at a diner just behind me in this picture...tri-tip french dip (local beef) with homemade potato salad and an iced tea...perfect! The picture is of the local movie house across the street. Just as it was when I lived here it's still open just Friday, Saturday and Sunday. Movies start at 7:30 p.m. I find this consistency somewhat reassuring.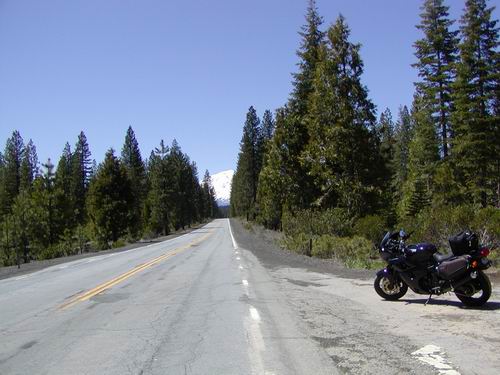 Back on the road now heading north on Hwy 89...mostly straight as an arrow. Mount Shasta has dominatated my view north for most of the day and Mount Lassen has been doing the same to the south. They are spectacular.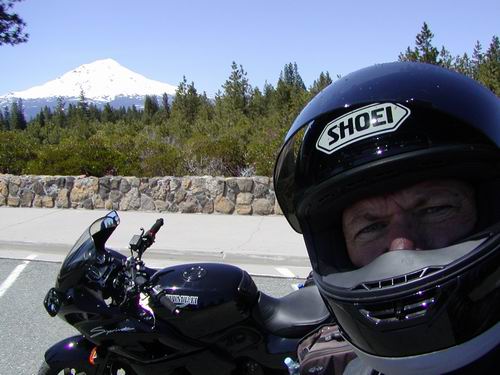 A roadside rest. I'm getting pretty awesome at taking these self-portraits.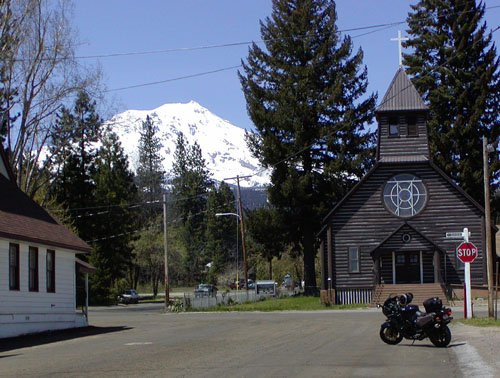 The town of McCloud showed up just in time...the bike was running on fumes. I was riding with the "low fuel" light on for miles and sorely needed gas.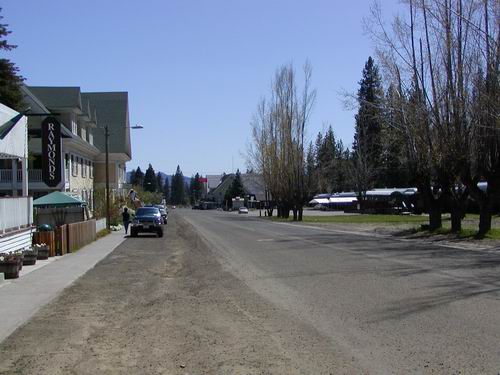 For some reason I've always liked the town of McCloud. They've suffered though tough economic times (mill closures, etc.) and continue to keep the town looking nice. They still seem to have a lot of civic pride. There are several intriguing looking Bed & Breakfasts here and some quaint shops and restaurants. Not bad for a town that can't even seem to afford pavement for their streets.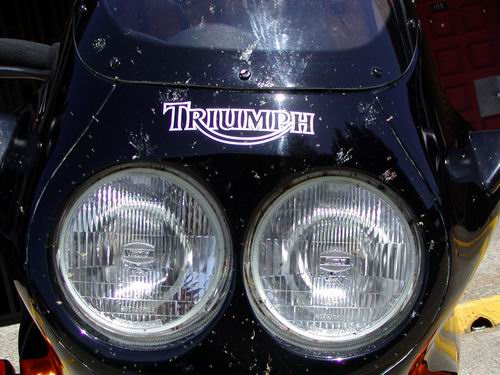 At Mt. Shasta (the town, not the mountain) I joined up with the Superslab. I took Interstate 5 about 40 miles north up to Yreka, the capital city of the State of Jefferson (a movement in the '40's for some counties to secede from the rest of California and Oregon that never really took off). This picture is of my bike at the end of our riding day.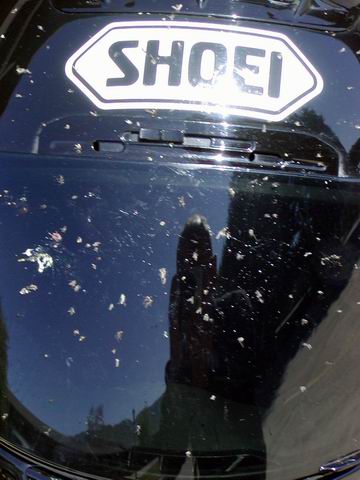 ...and this was my helmet. Many bugs gave their lives that I might ride this day.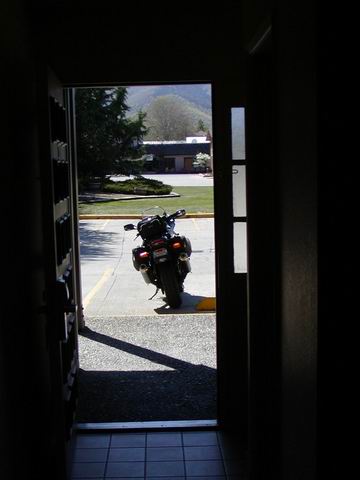 I stayed at another Best Western...this one was great! Ground floor room, non-smoking (small patio for smoking cigars though sliding doors out back of the room), bike parked directly in front, Denny's next door, Chevron gas station across the street, Bank America also across the street and the Old Town district a block away...everything I need is in walking distance!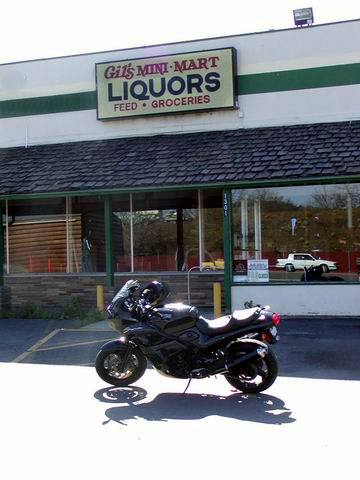 ...there's even a liquor store named "Gil's" :-)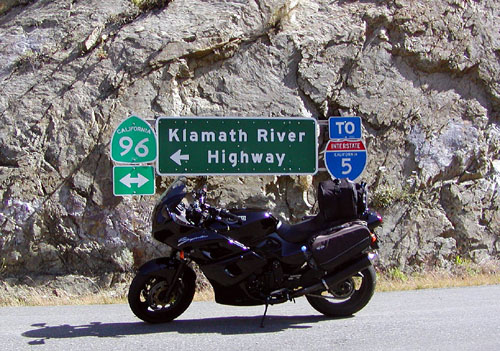 Next morning as soon as it's warmed a bit I'm off in search of the legendary California Scenic Highway, Hwy 96. There's no wind today, it's warm, it's a cloudless sky and it's a road I've never been over before. I'm jazzed.
As Mt. Shasta had dominated the view the day before so did the Klamath River on this day. It was almost always in sight and almost always spectacular.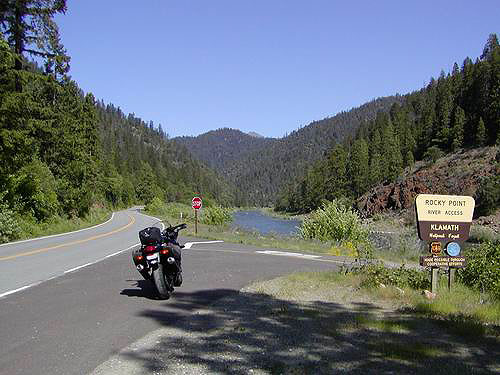 A shot of the road and river. The pavement was in excellent condition with just a little bit of gravel in a couple of corners and a few tar snakes at both ends. As with Hwy 299, Hwy 96 is a lot of sweepers (although generally a more narrow road) with enough twisties to keep your attention. The east end of it has more tight curves, the middle are the sweepers and the western most end are tight, canyon twisties. Just about a perfect road. I found myself tooling down the straight bits doing only about 55 m.p.h. (the speedlimit for the entire length of the road. I only saw one CHP car during the whole day's ride...wink, wink) just to give myself time to take in all the scenic wonder.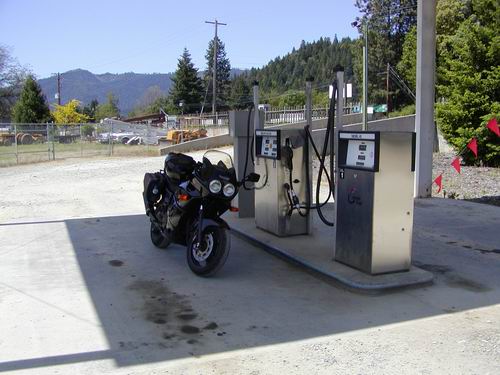 Even though I'd topped the tank in Yreka that morning and still should have about a half tank I figured I'd better get fuel in Happy Camp (population 1000), the only town of size on the highway. I stopped at a local grocery store after taking two passes through town and seeing no gas stations. I picked up a deli sandwich and a juice for further on down the road and got directions to the only pumps in town. It was a card lock that thankfully took credit cards. No air/water hoses, no windshield washing, no towels to keep the gas off my paint, hardly any pavement...just fuel, good enough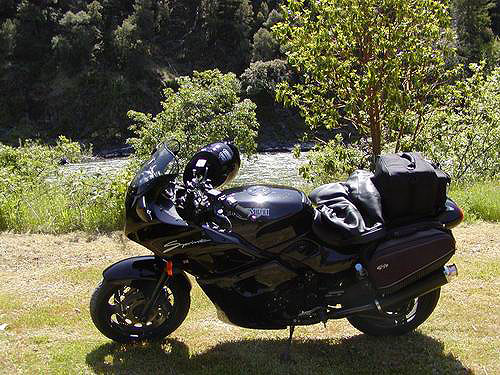 Around mid-day I came across this likely looking spot to eat my sandwich. I'd almost gotten myself in trouble earlier when I followed one of the forest service's "river access" signs hoping to get down to the river on the bike. The narrow road started out as pavement then turned to gravel (my road bike DOES NOT LIKE gravel!) on an especially steep pitch then turned into just two crude ruts...I was horrified! It was 20 miles to the next human being and me caught on a steep, rutted pitch with a fully loaded road bike with high performance tires. After much heaving and pulling I finally got the bike turned around on the narrow path and motored back up the hill and outta there. This place I'd found now was a MUCH nicer place.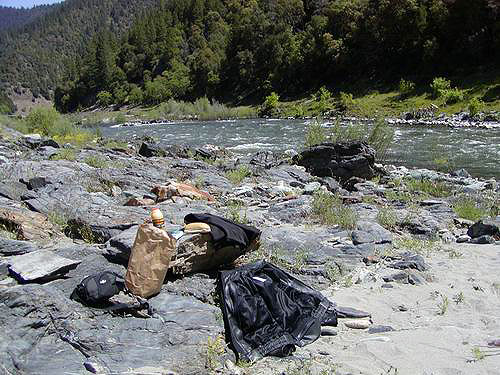 I found a perfect spot down on the river bank to eat my sandwich...80+ degrees, rushing river, birds singing, a perfect day.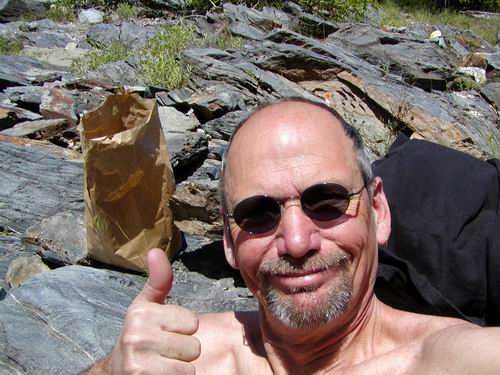 ...I stripped off my hot leathers, read the book I'd brought (Martin Eden by Jack London...great stuff) and dozed in the sun.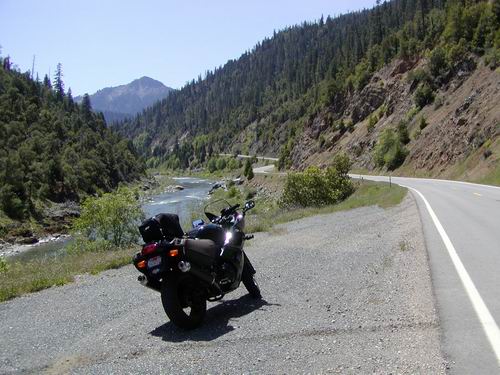 ...back on the road, refreshed. Another view of bike, river and road.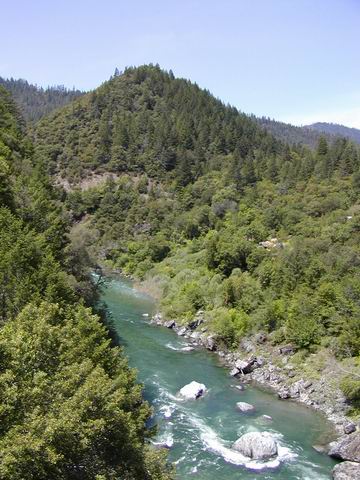 Last shot, just over the Humboldt County (my home) line. This is at the confluence of the Klamath and Salmon Rivers...a holy place for much of our local Native American population.
It felt great to crank up the bike and ride fairly hard through the final 20 miles of twisties and into Willow Creek where I joined back up with Hwy 299 and headed west back to my home in Eureka.
The total trip was around 600 miles done over 3 days...VERY relaxed riding. I had a wonderful time and I heartily recommend both the stretch of Hwy 299 west of Redding and the entire length of Hwy 96 to anyone who likes a little scenic beauty with their semi-challenging roads.
---
(Return to Gil & Becky's homepage by clicking HERE)