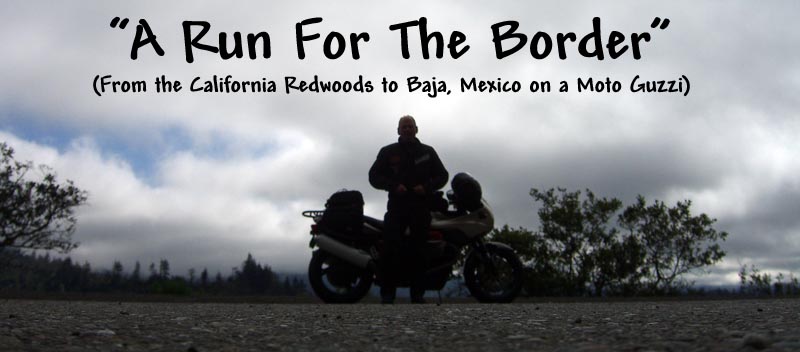 ---
I know these trip reports of mine can get a "little" out of hand so to help you with navigation I've created links to different days of my trip. Simply click on the days below that you would like to view and you will be magically whisked to away that time.
---
It's been a long winter...

I work seasonally in the timber industry and generally get quite a bit of time off during the winter months. Usually during this time I'll do household projects, travel and just generally catch up on my life. This year was different. Last summer one of our two beloved basset hounds, Norman, passed away. Both of our dogs were getting quite old. The life expectancy for a basset is from 8 to 12 years. Our female, Elizabeth, is now 14. She is incontinent, deaf and crazy. She is too feeble to be boarded at a kennel any more.

It has been necessary for my wife Becky to do quite a bit of traveling with her job at Humboldt State University over this last winter. Someone had to stay home and dog sit...that would be me. Being confined to the house during a long and stormy winter was making me as crazy as the dog.

But now my time has come. For months the only thing keeping me even marginally sane was the promise of a motorcycle trip in the spring. I dreamed of warmth, I dreamed of sandy beaches, I dreamed of margaritas served to me by beautiful dark-skinned women with fruit in their hair...I dreamed of MEXICO!

With Becky's encouragement I planned a motorcycle trip down the California coast, into Mexico's Baja Peninsula. I wouldn't be going too far in, just to Ensenada 60 miles down the western coastline and then heading east and south a bit to San Felipe on the Sea of Cortez and then home again through the Sierra foothills and a bit of California's gold rush country.

Something like this: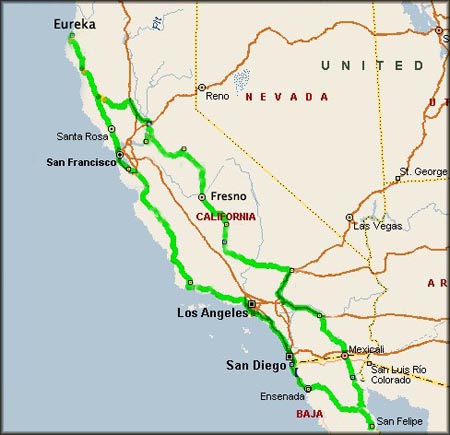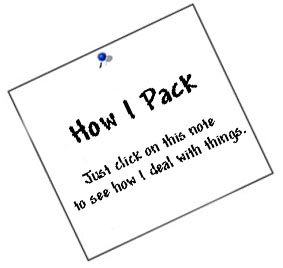 My motorcycle on this ride is a 2002 Moto Guzzi Le Mans. For luggage I'm using Cortech's 21 litre tank bag, sport saddlebags and sport tail bag. I always wear full motorcycle gear including a 2-piece Aerostitch "Roadcrafter" riding suit, a Shoei X11 full-face helmet, Sidi Strada riding boots and a pair of Held's "Steve" riding gloves. I am carrying everything on the bike that I need to survive on the road indefinitely. I carry 5 days worth of clothing...after that I either start smelling or I find a laundromat. For a full listing of what I take with me simply click on the note to the right.
I hoped to be able to meet up with lots of friends and family along the way, eat way too much good food and all in all just have a rousing good adventure and chase away those winter blues.
Well, enough talking about it, lets ride!
---
Click HERE to continue on with the ride!
Click HERE to return to our homepage