Becky & Gil's Excellent Vacation in
Italyand Britain!
---
Gil Here: First off let me explain a couple of things...the text for our trip report was taken directly from the "semi"-daily journals that Becky kept while on the trip. I will of course, feel compelled to throw in my own comments from time to time...they will be well marked and in blue (just like this part is). All of the photos used in the report are a compilation of both Becky's and my snapshots unless otherwise credited. Just prior to this trip Becky bought a new digital camera with an amazing amount of memory (a Casio Exilm 7.2 megapixel with 1 gig of memory) and so we messed around and took a few short movies. By clicking on the movie camera icons like this

scattered through the story you can view (from the YouTube web site) some of these film clips (note: you will need to use your browser's "back" button to return to our journey). Please be aware these clips can sometimes be a bit slow to load, are in a Windows Media Viewer (.wmv) format and are generally of questionable quality and relevance...but fun (we hope).
To help in your navigation (I realize this report has grown totally out of hand and is really too much for anyone to take in one sitting) you can access the each of the 5 pages from here:
---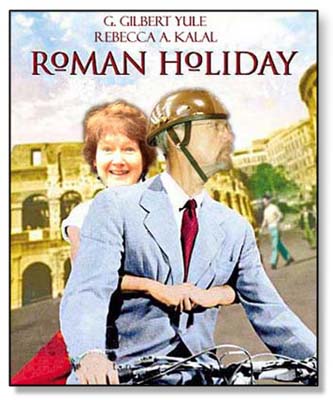 March 27, 2006
Took Elizabeth and Norman (our basset hounds) to "It's All About the Dogs" doggy resort for "their" vacation. IAATD offers many cool things like indoor/outdoor play and MUCH interaction between dogs and a set of delightful webcams so that doting owners can view their puppies at play while they out of town (those Basset Hounds in the middle/right of the picture are our dogs Norman and Elizabeth "frolicking".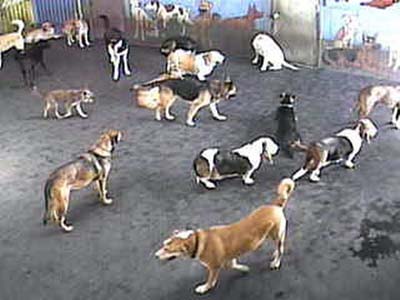 (captured and courtesy of Andrea Martin)
We were on the road by 9:30 am, driving down Highway 101 to San Francisco Airport. (Note to selves: 101 is VERY busy in the South Bay - take 280 next time!)
We arrived in Millbrae, at the Best Western El Rancho Hotel, at around 4:30. They offer a nice "park and fly" package. We had dinner at The Crepevine" restaurant in Millbrae, with several friends and their families from an online motorcycling group we belong to, Sport Touring. Net. Excellent food and delightful company!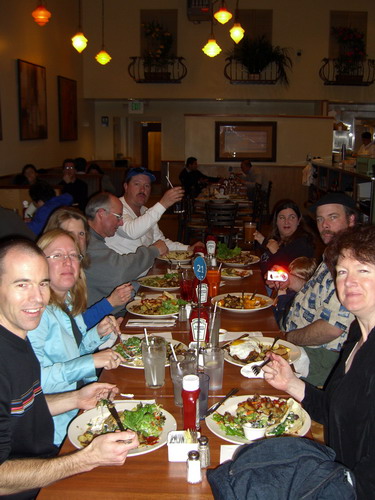 (Gil Here: This is not an auspicious beginning to things. When first arriving at a new motel room Becky and I are always racing to beat each other to that special "sweet spot" to hang our personal toiletries bags. She beat me this time with the "hook behind the door" but I thought I'd found a creative, alternate place to hang my bag...the window latch. As I was showering I suddenly heard a splash and looking out found that my entire toiletries bag had fallen from the latch and into the toilet...I immediatly went out and invested in a new toothbrush.)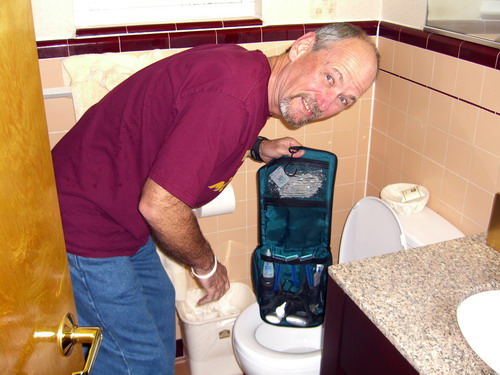 March 28
Next morning, we took the El Rancho's shuttle to the International Terminal at San Francisco Airport, where we checked in at the Business Class counter, thanks to all our United Frequent Flyer Miles! We checked out the Business Class Lounge (to the right, after one goes through Security Checking). Lots of room and seats; very quiet and comfortable, free snacks and a café. But no computers to use; just WiFi and we had packed our PDA (with its wireless connection) in a checked suitcase. So we moved on, to our rendezvous with STN member Stu (5OUTTA6), who works at the Airport and has free rein to travel about! Time flew by, and suddenly it was time to board our flight at Gate G92.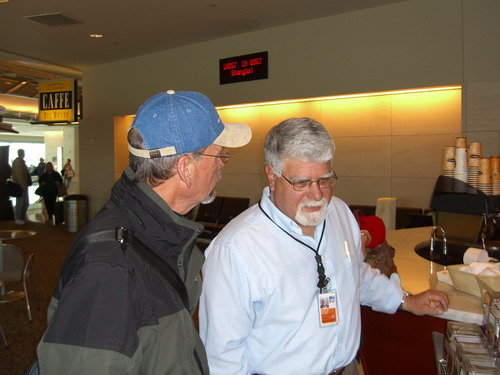 (Stu brought me a present, a lovely SFO baseball cap normally only available for employees...wow, I hope nobody from SFO actually reads this and turns Stu in.)
Ooh, what nice seats! We have legroom too spare ("It's too much...and yet it is the minimum for foreign travel" says Gil.) I spent quite a bit of time fiddling with all the controls: lamp, video, audio, neck support, lumbar cushion, foot rest extension, ejector seat... We had seats in Row 8, just behind the bulkhead which separates First Class from Business.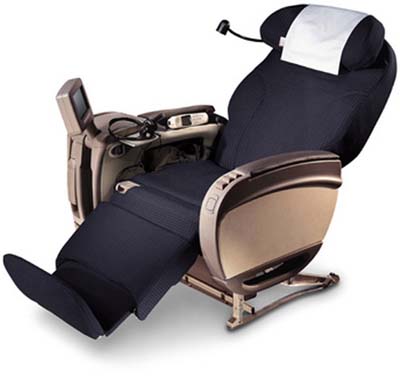 (photo courtesy of United Airlines)
The video setup however is...something out of the dark ages. There were 4 movies to choose from, showing at the same time. 2 years ago, in coach, on Virgin, we enjoyed about 15 movies/TV shows ON DEMAND, with the ability to pause, rewind, etc. Oh, well. We both watched The Family Stone, which turned out to be truly wretched.
On the other hand, we were offered hot mixed nuts, champagne, and hot lemon scented towels, then meals served in real china.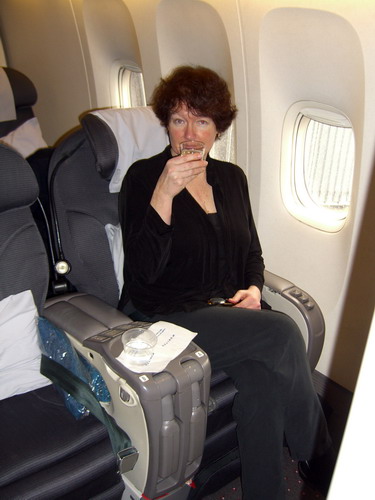 The seats were so comfortable we were actually able to get some sleep, which we would desperately need in order to finish our traveling day!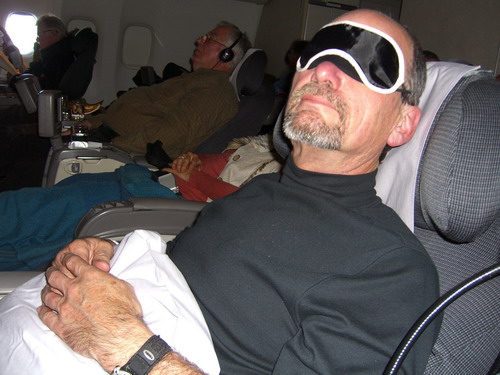 March 29
We land early morning at Heathrow airport just outside London. Great Britain has just changed to "summer" time wise, so for one week, they are 9 hours ahead of us, rather than the usual 8.
Thanks to our Business Class seats, we are offered "Fast Track" through immigration, which seems marginally faster. (We surmised that it didn't seem particularly appropriate that the airlines could somehow arrange with a government entity to provide faster service for the folks who presumably had more money). Our baggage had previously been marked "priority," and were supposed to have been taken off the carousel first and stored in a special place. My bag was there, but for some reason, Gil had to wait along with all the other "common riff raff" for his bag.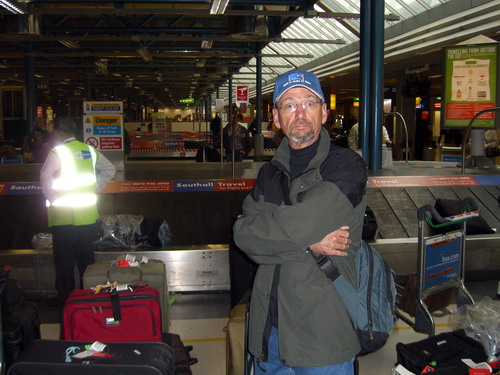 We had to travel from Terminal 3 to Terminal 2 for the next phase of our trip - an Air Italia flight from Heathrow to Rome. We take some time to check our email. Hey, people are speaking Italian as we wait in line! We learn that the signage in the airport is wholly inadequate - you must check in before you go to the Departures level. And most of the shops are past security in Departures. I bought a new watch - a solar powered stainless steel Citizen. It's good to know the time again!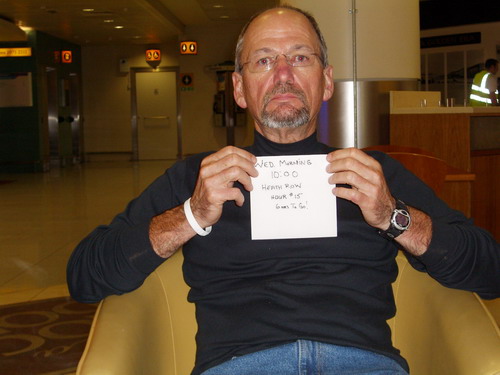 (15 hours on the road with 6 more to go...I'm afraid the strain is starting to show)
OK, time to board! We walk into our plane and find a world of bright green. Green carpet, drapes, chairs - wow! Are we in Ireland? We are served a lunch of a bun with white cheese ("...or was that butter?" asks Gil) with artichokes, and a small pastry.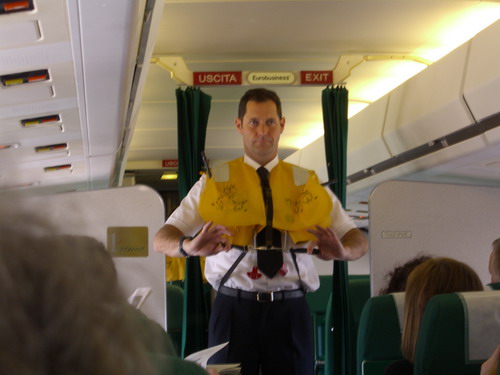 The male attendants are very distinguished looking and formal. Gil's seatmate, a young girl traveling alone, startles me by painting her nails...several times. Horrible American-style pop music is (think of someone sounding like Brittany Spears singing their rendition of the Stones' "Wild Horses"...ack!) piped through the speakers.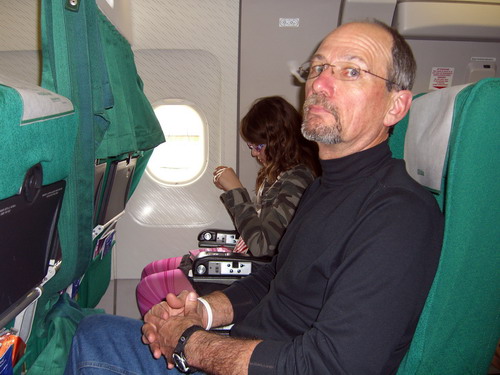 (I may have to kill my seatmate...and would someone PLEASE TURN DOWN THAT MUSIC!)
We are becoming quite tired now, in spite of our earlier Business Class experience. But the flight goes quickly, and we land about 2 hours later in Rome. We arrive, are pleasantly surprised by the lovely, sparkling facilities at Leonardo da Vinci Airport (Fiumincino), get our bags, and then look for our driver. We arranged earlier to be picked up by a driver service as part of our "Rental in Rome" (oh my, highly recommended!) apartment package. Alas, we do not see a sign with my name on it! Oh dear, must make our first telephone call to an ITALIAN! I know barely any Italian, but we manage to have a conversation of sorts - it seems our driver is at the Airport somewhere....turns out he was just yards away, in Terminal B (we arrived, as scheduled, in Terminal C). Our driver turns out to be a very pleasant young man nicely dressed in a suit (like many young, tanned Italian men). He speaks limited English, and we are even worse with our Italian, but we do manage to chat - yes, he has always lived in Rome, he does have a motorino (scooter) and he's hoping to buy a dual sport ("all road") bike in the near future. And yes, he follows GP racing (we all agree "Il Dottore," Valentino Rossi, is the greatest rider ever).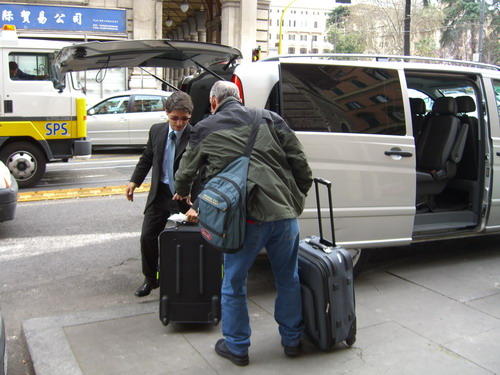 Traffic, as he drives us to Rome in a Mercedes van, is fairly heavy, and yes there are lots of scooters and motorcycles, and yes, in the city they are merging and threading through each other like crazy at high speed, but somehow it's all pretty sensible and orderly; even polite. As in Paris two years ago, we are once again struck by the honed skills of the drivers here. They can pass with only an inch or two on either side, and they all seem so confident. He who hesitates is lost! And cars and scooters DO stop at red lights!
Our address is 10 Principe Eugenio, right across from Piazza Vittorio Emanualle. The address also said "int 8" which had always confused us. Well, we found the apartment with no trouble at all. And it turns out that "int" means the Intercom button.

(the street door and elevator)
So we pressed "otto" (which translates to the number eight from Italian, our apartment number) and Miss Christina, the housekeeper, answered. She came downstairs to let us in (no buzzing the door to unlock it). We climbed one flight of marble stairs, then entered a tiny lift for the remaining 3 floors. There was just barely room for the 3 of us plus our luggage. Then we entered our apartment. It's faintly disconcerting to walk into a place that you are already know so well, from looking at the video of the apartment for months before we arrived. The apartment was all we had hoped for. Beautifully decorated, with many framed architectural prints, a small but well appointed kitchen, bathroom, large bedroom and living room. Lots of antique furniture. Everything's perfect, especially the big windows that look out over our street and Piazza Vittorio Eugenio, where we can watch our neighbors across the street, the motorini and cars whizzing by below, and the people walking dogs and threading their way between vehicles. (To be frank, the couch and chairs are all folding futon style, and they are not quite what we'd call comfortable.) Everything is sparkly clean, and the floor is especially delightful - terrazzo? There's a large satellite TV, stereo, DVD/video player (and several tapes to play and books to read) and all the plates, pans, glasses et al to host quite a little gathering!

(the front door and kitchen),

(the hallway),

(the bathroom)
We decide we must get out and explore a bit before collapsing into bed. We walk to Termini train station. Yes, there are entrances all along Via Giolitti, so we could have easily arrived by the Leonardo Express train on track 27, then left the station through a Via Giolitti exit and had just a few blocks to walk to our apartment.
We had read that our neighborhood is termed "gritty," but we found it to be fine. Our Piazza, with a large park in the middle, and the surrounding colonnaded buildings were completed in the late 1800's, shortly after Italian unification. They've faded a bit in the intervening century, and there's graffiti and sidewalk merchants selling knockoff purses and watches, but we felt perfectly safe.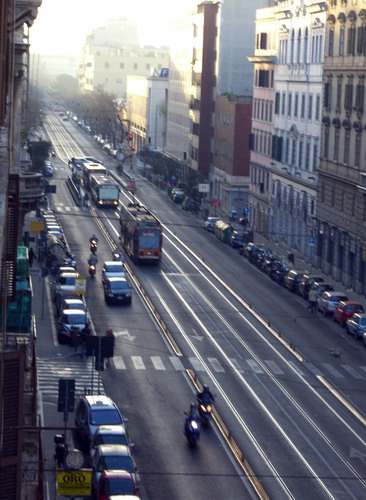 Hey, sense of accomplishment! Besides walking to Termini in our semi-zombielike state, we actually found a bancomat (ATM machine) and withdrew some euros (we had contacted our bank and credit card people in advance to let them know we would be traveling and to exect overseas withdrawals). We asked for (in Italian and was actually understood) and purchased 2 Carte Integrate Settimanale (the bus and tram passes that are good for a week) at a local tobacco shop (yep, that's where you get 'em).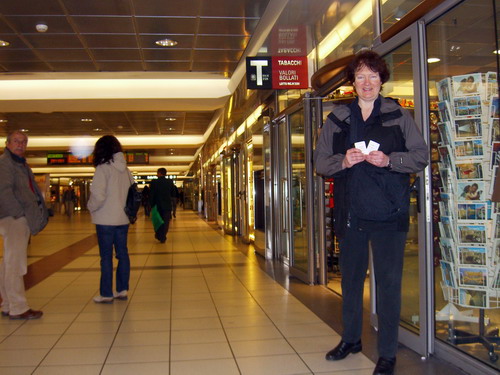 We crossed streets safely (after reading and hearing about all the horror stories...the trick, never show fear). We bought 2 gelatti (yummy, very creamy Italian ice cream)...also in Italian!
(Gil Here: I should point out that all this "Italian speaking" that seems to be going on was actually being almost exclusively by Becky. Even though we had been practicing for 6 months I had advanced no further than please, thank you, hello, could count to 20 and ask for the bathroom.)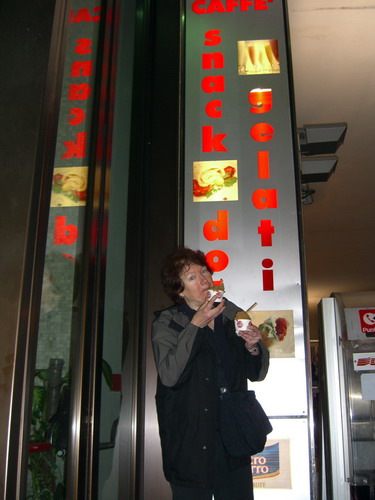 We purchased groceries at a small supermarcato in Termini, including finding the eggs (they are not refrigerated) and using the special fruit/veg weighing machine to print out sticky labels (by punching the number code for each item) to affix to the bags.
(Gil Here: Here is as good a place as any to mention grappa. On this shopping expedition I purchased my first bottle. I had heard the rumors of its existance since starting research for this trip. Grappa is a distilled drink made from the residue (including stems and seeds) of grapes that were used to make wine and therefore it comes in different varieties and flavors. It typically runs from 80 to 120 proof and I became quite fond of my evening glass, or sometimes two, during our stay in Italy.)

And we saw ancient 4th century BC ruins downstairs at Termini in the McDonald's there. And I even got in trouble with the police - it turns out you cannot take photos anywhere in Termini station, even of your loved one standing in front of said ruins.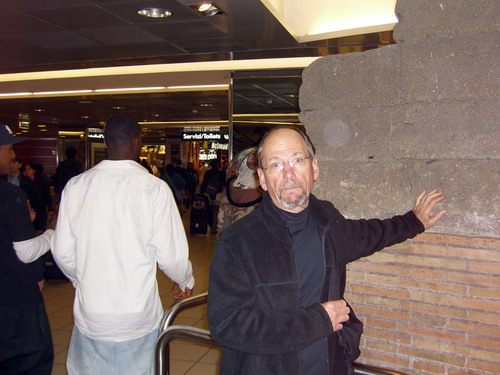 We amuse ourselves with Italian TV and already have a favorite: "Striscia la Notizia," hosted by Ficarra and Picone. They seem to be mocking snippets of other shows. Evidently there are a lot of "reality-based" shows in Italy!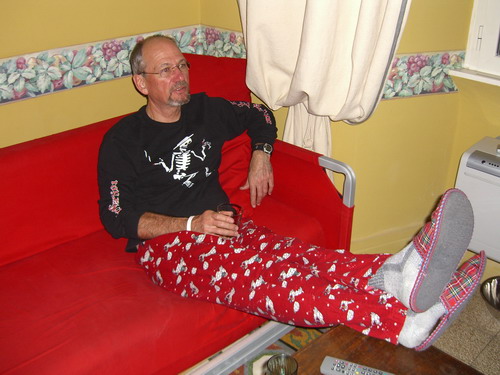 March 30
Nice shower, but I found out the hard way that the hot water supply is limited! Our "boiler" resides on a curtained shelf high above the bathroom door. I make us breakfast of fried pancetta (Italian bacon) and eggs. What fun cooking in our own cucina! Gil struggles with coffee. There is no American style coffee makes, although we're well equipped with two stovetop espresso makers.

(how to make a "cafe americano").
We strolled through our Piazza, checking out the ruins of an aqueduct collection point and the "Porta Magica."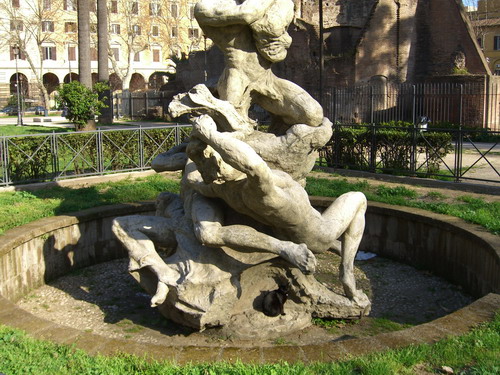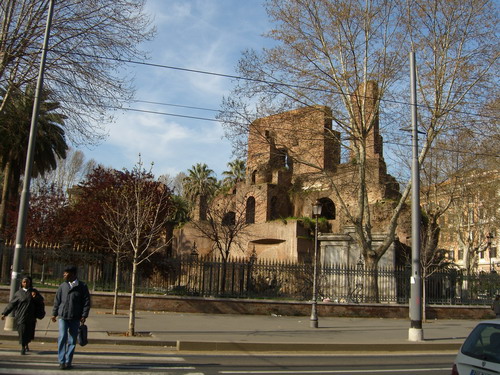 Then we walked to the front of Termini, which is a hub for about a million buses. We bought tickets for the City-run 110 open top sightseeing bus, which costs about 13 euros and lasts two hours. We listened to limited commentary in English (and 5 other available languages) through individual earphones

.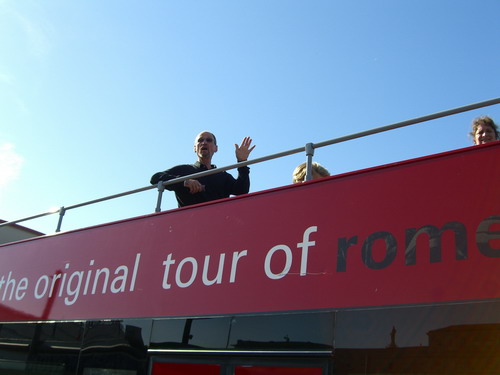 Traffic is truly amazing - the drivers are so skilled and seem to have a finely honed sense of predicting what the other drivers are planning to do. Everything seems to flow smoothly and deliberately, with motorini scooting around buses, and horrific collisions always imminent, but never happening.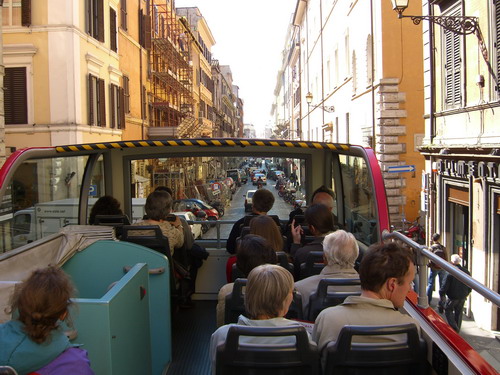 After returning to Termini, we ate our picnic lunch of salami and cheese sandwiches sitting on the edge of the fountain in the middle of Piazza Republicca's roundabout. We had a lemon drink by Minute Maid that had no sugar - tart, but curiously refreshing.
Then we found our way to the Museum of the Surly - oops, I meant Museum of Rome. Evidently they've made changes since Rick Steves updated his 2006 guide. You now get your audioguide from the same rude but oh-so-good-looking Italian man who sells the ticket. Don't make the mistake of following the "old" signs to "audioguides" beyond the bookstore, else you'll be greeted by a bored young lady sitting under an "audioguides" sign who looked at us as if to say "Audioguides, HERE? Are you crazy or just stupid?" and directed us back to the ticket guy, who made sniffy noises at us as he prepared our guides.
Anyway, lots of sculptures, including fabulous Roman copies of famous Greek works, including The Discus Thrower and an exquisite Apollo which was found in the early 1900's in the Tiber River. Also rooms filled with mosaics recovered from ancient villas, and frescoed walls. The Museum was a quiet oasis from the insanity of tourist throngs.
We walked back towards our neighborhood, and found one of many internet cafes/laundromats. We paid 1 euro for 30 minutes - you first purchase a card from a vending machine that give you a special code. Then the proprietress gave Gil yet another code to use (you make up any user name). We checked the "doggy cam" at "It's All About the Dogs" but it was still too early to see anything. We checked and answered email.
We walk south past our apartment on Via Principe Eugenio, looking for a supermarket, post office, bakery and a renowned gelateria called Palazzo del Freddo Giovanni Fassi.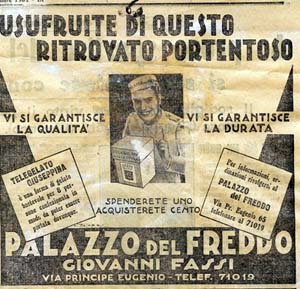 (photo borrowed from the Palazzo website)
We find a large supermarket, where pick up a few more items, and the Gelato place. Wow - it is spacious, which seems to be an unusual quality around here. A huge array of flavors! At first I think other people, including two nuns, are rudely stepping up to the counter ahead of me, but then Gil notices you have to pay first at a separate cash register, and then hand your receipt to the friendly ice cream man. Remember to say "tutto" if you want just one flavor, or you'll get an odd co-mingling of flavors like I did - my own nocciola (hazelnut) and Gil's fragola (strawberry).
Time to return home, unload groceries and rest our weary feet. I can't tell you how wonderful it is to have our own apartment. We feel a wee bit like we're part of this neighborhood, as we stand on the sidewalk unlocking the door. We've got 4 keys - to the ground floor front door, the lift, and two more for our own door, including a monster lock with no fewer than 5 large steel "fingers." We've yet to see our neighbors, but we can hear them from time to time, including a child practicing on the recorder, especially "We Shall Overcome" of all things.
We rouse ourselves and decide we can go out into the world at 9:00 and eat dinner in a restaurant like adult Romans. We find a modest little trattoria where we have the gnocchi (Thursday night is "gnocchi nights" throughout Rome...we found no good reason for this tradition but it truly turned out to be the case!) and Rigatoni alla Carbonara.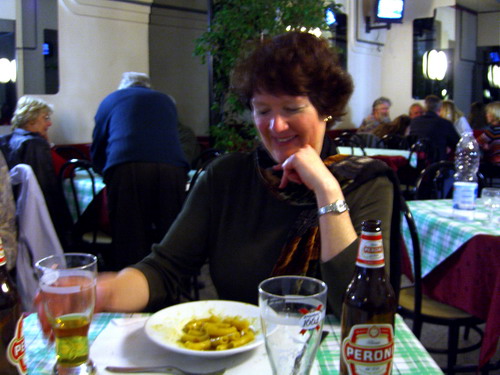 We washed a few dainties in the sink and then rinsed them in the bidet...how very convenient and civilized!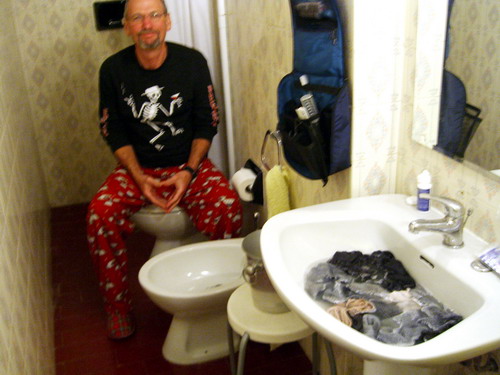 ---
Ready for more? Click HERE!