MEMORIAL DAY (2005)
(Reedsport, OR and Back)
---
28 May 2005
We were on the road by 8:30 a.m., stopping only for gas, breakfast, whiskey, and more gas before coming to a stop at a spectacularly lovely rest stop somewhere north of Brookings. We marveled at the view, the nicely stocked tourist office, the bouquets of flowers on the picnic tables - all balm to heal Gil's wounded ego, bruised moments before.
When we first parked our bikes at said rest stop, we were accosted by a horde of street urchins straight out of Dickens - well, make that some kind of park maintenance crew wielding rakes and shovels and bright orange vests who were at most eleven years old. Seriously. Anyway, as young urchins will, they crowded around us and asked the standard "What's that" and "How fast does it go" and (new, for me) "How much did it cost." When Gil proudly proclaimed "Why that's a mighty Triumph, young urchin-boy," said urchin replied, with an obvious sneer, "Never heard of it." Well!!
We conveniently arrived in Port Orford right about lunch time, where we enjoyed incomparable fish and chips, homemade chili and a mighty fine salad at The Crazy Norwegians. Big thumbs up from both of us! Having seen the worthwhile Antique Motorcycle Museum on our last trek through here, we merely waved in a friendly manner as we rode by.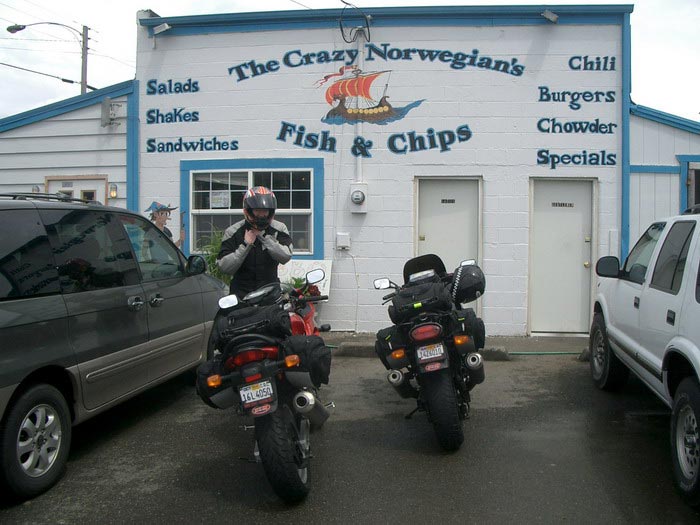 Just south of Bandon, I pulled in at the West Coast Game Park Safari, thus forcing Gil to once again (we were last here years ago with my Aunt Ruth) trod through the goat poop checking out the animals large (lion) and small (baby skunk).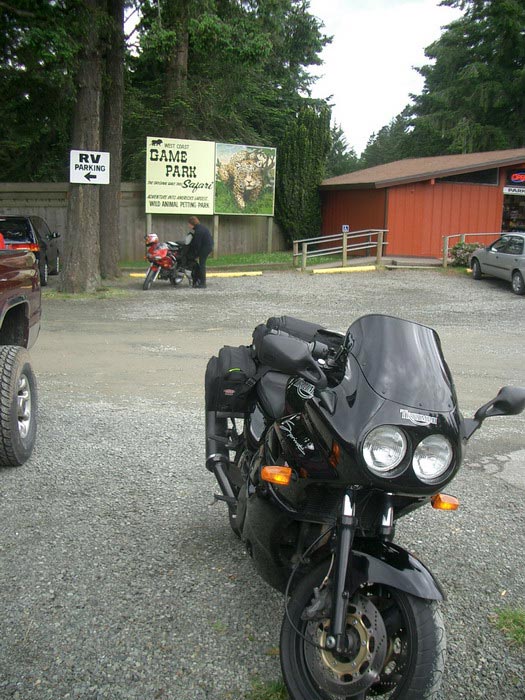 Editor's note: take heed of the advice on this sign...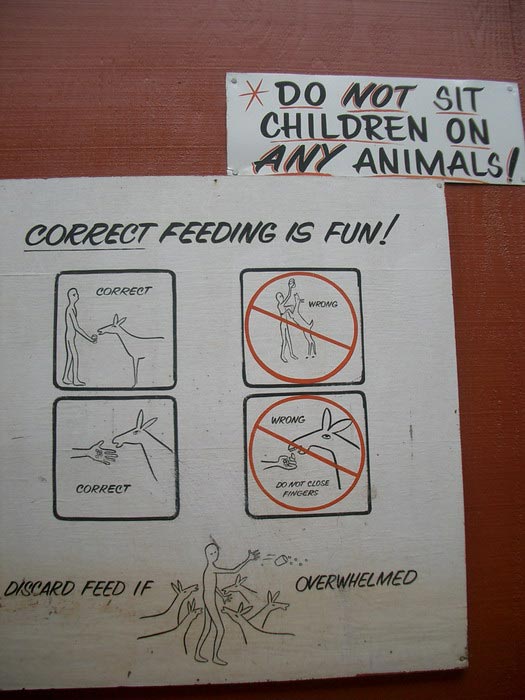 ….I was overwhelmed so quickly by about a zillion goats and deer that I did, indeed, shriek and discard my official animal feed offering on the ground and flee. [...and isn't it useful to know that aliens also seem to enjoy petting zoos?]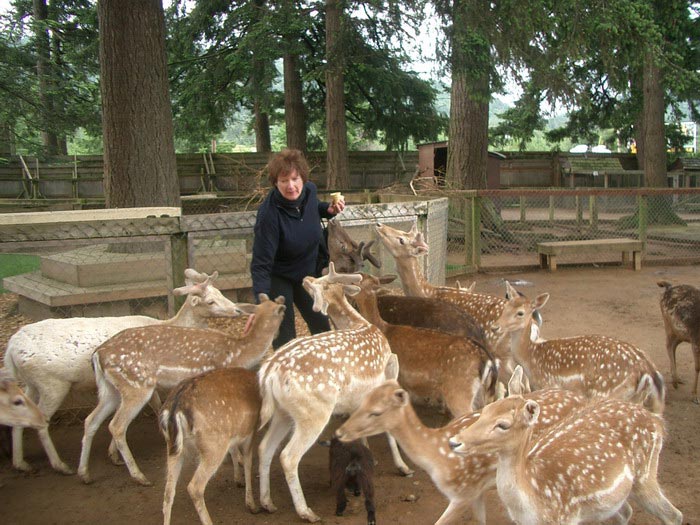 Spring was in the air - we must have seen at least a dozen peacocks in full feather-rattling display...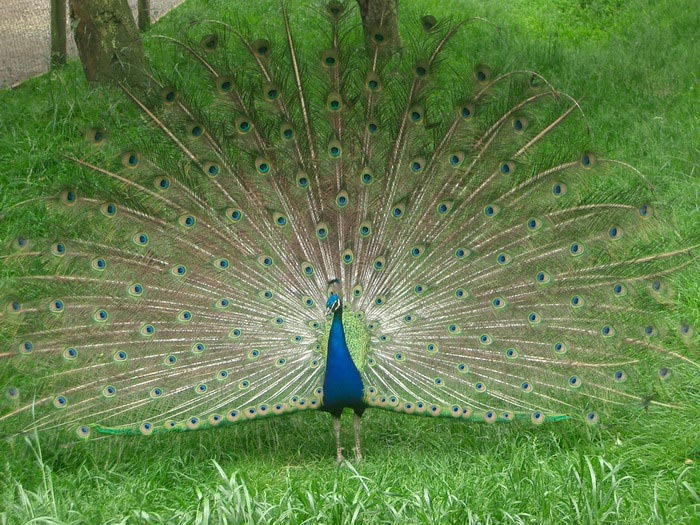 ...as well as wresting bear cubs, mating lions, and lots of little fellows like this tiny goat which bravely jumped off this bench and ran away.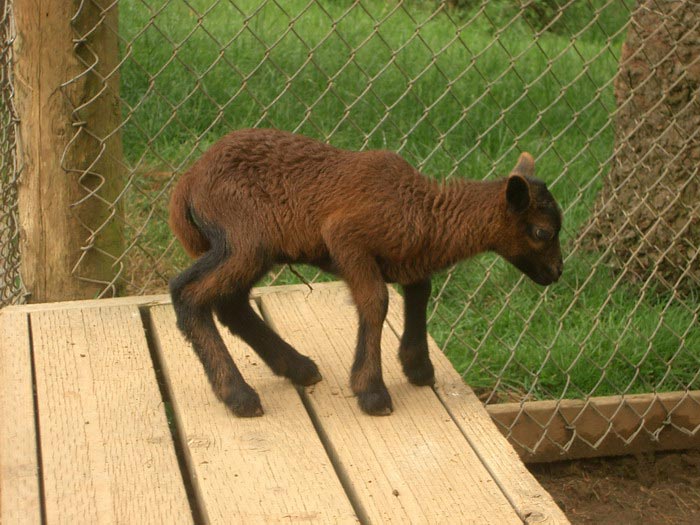 I chatted with this emu for a moment, and he leaned over and bit me in the arm, which startled me.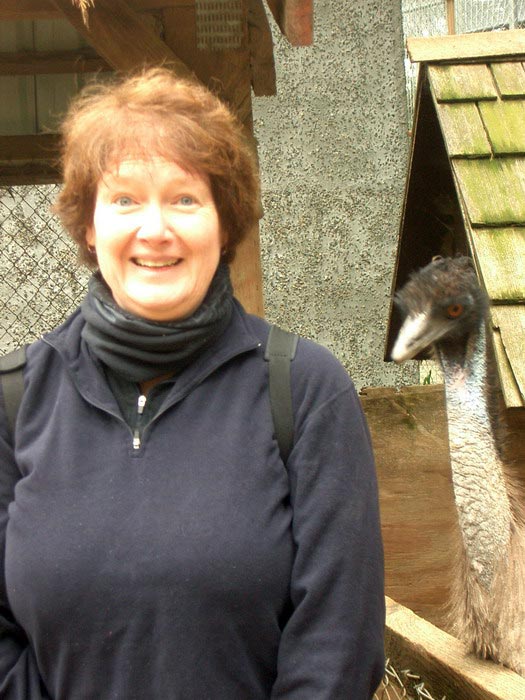 Gil was fascinated by the camel's chewing.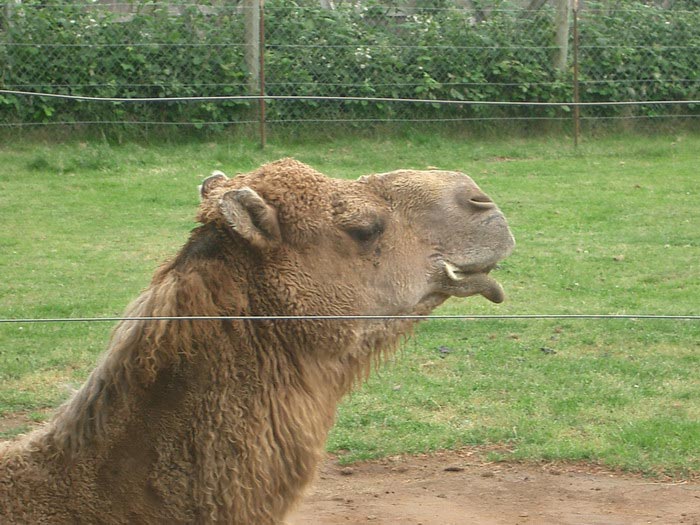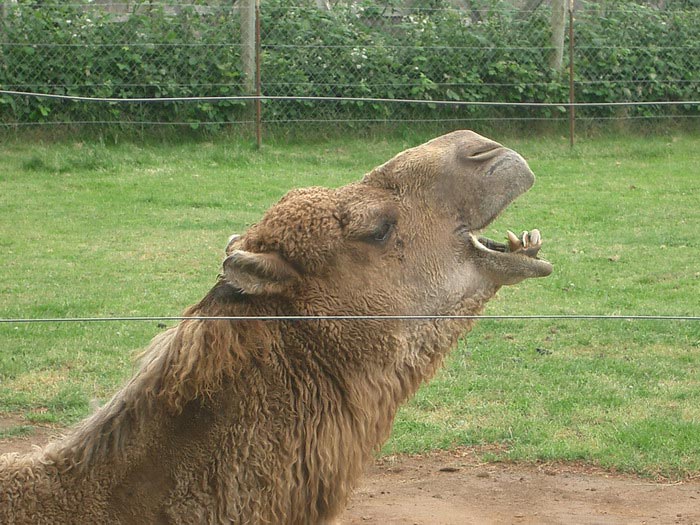 We rode north for some miles in a gentle rain, stopping finally in Reedsport at the Best Western Salbasgeon Inn [some local legend about a mythical fish 1/3 salmon, 1/3 bass, 1/3 sturgeon], where we found ourselves in a "spa suite."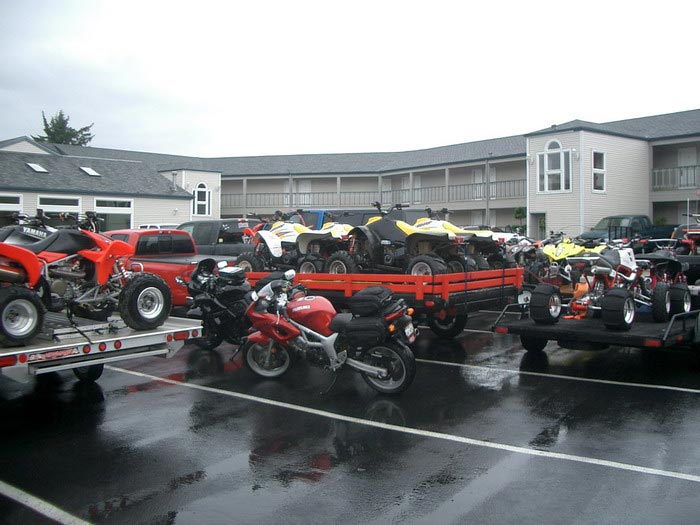 (Gil here...being Memorial Day Weekend and the first holiday of "Summer" the parking lot was filled with thrillseekers and their sand rails/quads/etc. looking to ride the world famous dunes here)
Hey, there's a giant bathtub in the bedroom! "What we need is some bubble bath," I said. And so I dumped half a bottle of vanilla body wash in the tub.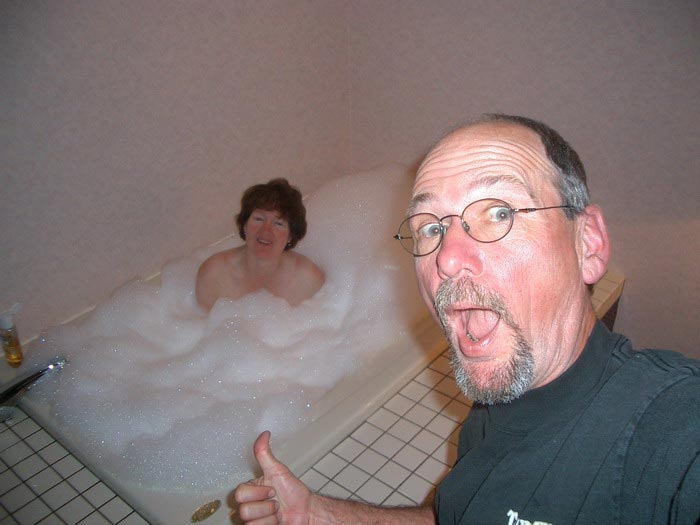 (Gil again...I've just really got to cut in here. What Becky is failing to mention here is that when we later took the time to read the actual directions on the bubble bath bottle was that the contents were intended to create 75 seperate bubble baths...she had dumped the equivilant of 32 1/2 baths worth of suds into our jaccuzi!)
It was quite lovely at first, but when I turned on the jets, the suds began to rise….and rise….and rise even more, until brave Gil was lost to view entirely.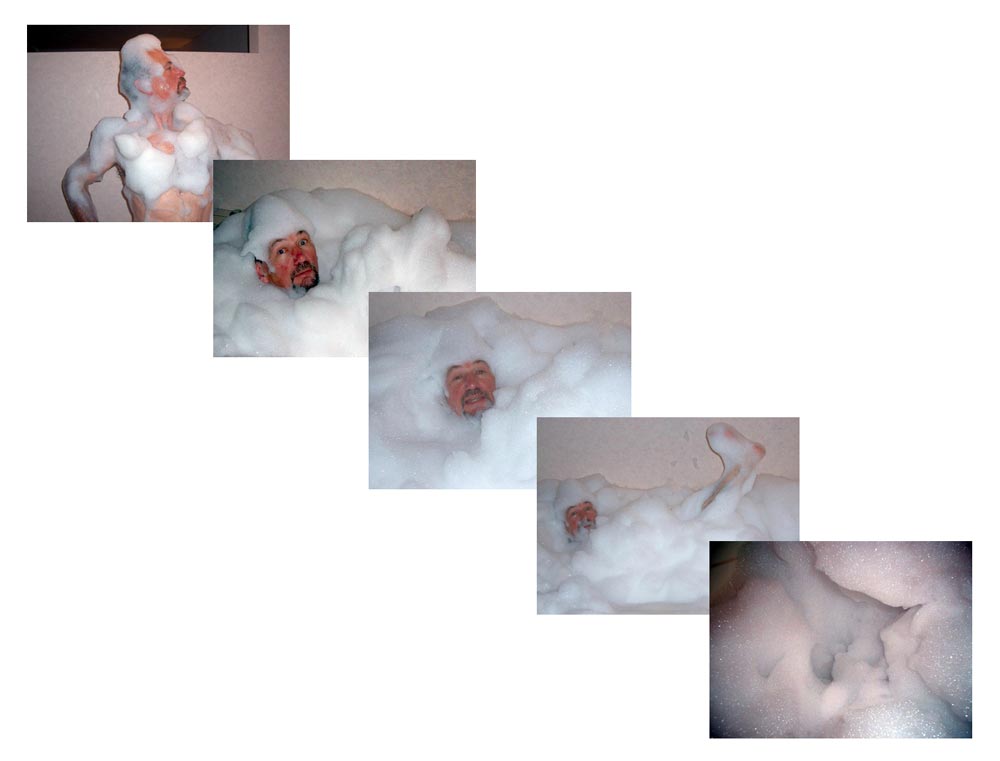 It took us a couple of hours to subdue the foam after we emptied the tub.
Next morning, we headed due east on Highway 38, which parallels the impressive Umpqua River and is a truly beautiful highway - rock canyon walls, emerald green meadows, the rolling river, "ooh-let's-live-there" homes, and fine elk viewing platforms.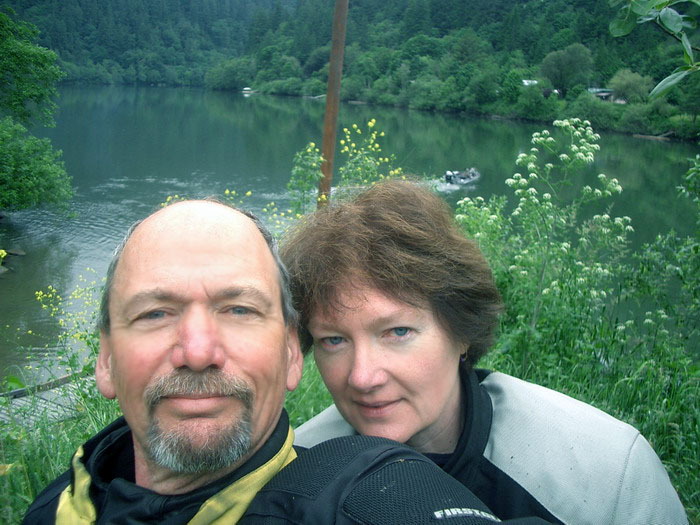 At the charming little hamlet of Elkton, we turned south on 138, also a most enjoyable lesser highway, winding through rolling green hills dotted with sheep, until we arrived at Sutherlin.
We gassed up in Sutherlin, where Gil found a metallic condom machine to be a handy way to hang his tank bag. Ah, the joys of magnetic tank bags, when you wish to avoid unmentionable liquids on the floor. [thanks for the tip, Jeff N]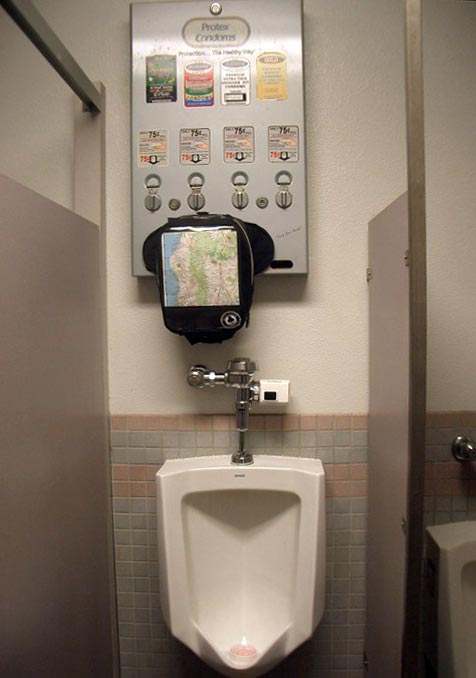 "Hey," we said to ourselves while having a mid-morning snack. "Let's avoid slabbing south on I-5 by taking these cute little grey roads on the map and then heading back to the coast on Highway 42. I'll write all the little towns on this here napkin and post it in my tank bag so we won't get lost."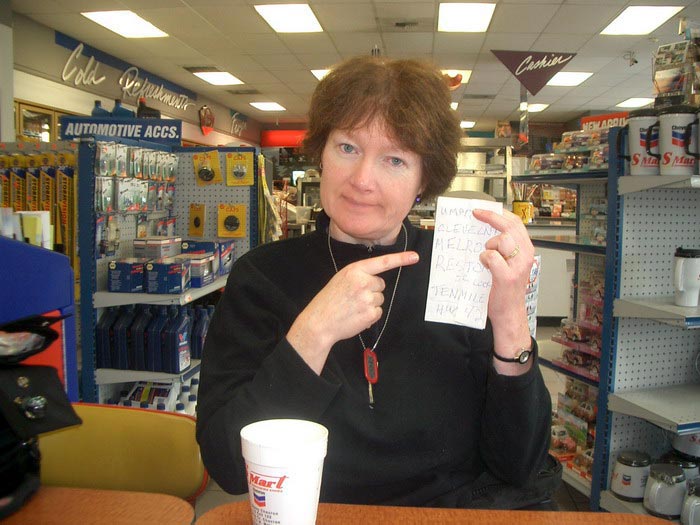 Long story shortened: we got lost. We drove by the Umpqua market four times. "Yep, there those fool bikers go again…" Here's the end of the pavement on Road 6. (I'm sure the off-road crowd would scoff at our timidity, but we turned back.") But on the plus side, we enjoyed lovely views and roads, saw a wild turkey, and lots of baby lamas before we headed to Roseburg on I-5.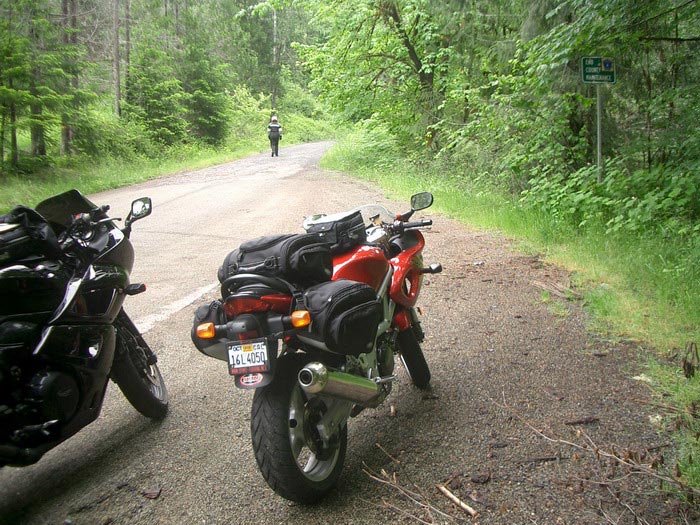 Then we missed the Winston turnoff to go back to the coast, so we motored all the way to Grants Pass, then 199/101 and back home again, home again, jiggity-jig.
---
That's all folks...to return to the Gil-Beck's Home simply click HERE